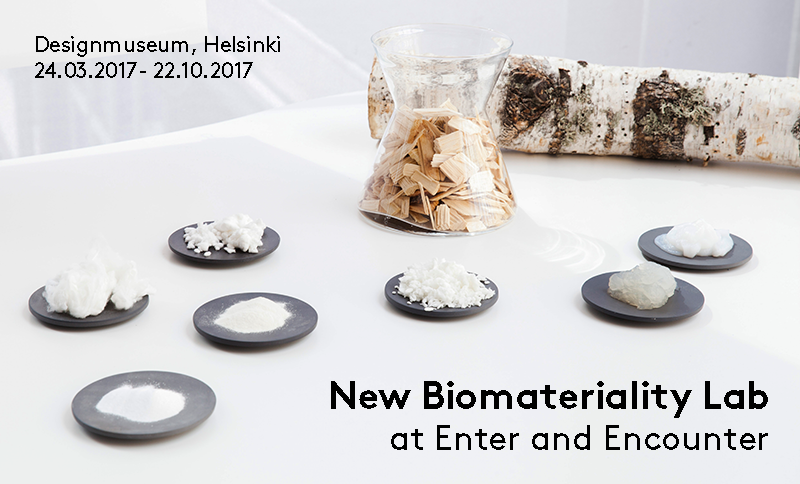 What: The New Biomateriality Lab presents new Finnish biomaterials, mainly based on wood. All materials have been invented and produced in multidisciplinary research projects. The exhibition is coordinated by Aalto University's CHEMARTS collaboration and participating projects are DWoC, NoMa, Hiilinielu Designstudio and Trash2Cash. The main partners are Aalto University, VTT Technical Research Centre of Finland, Technical University of Tampere, Universities of Applied Sciences in Lahti and Tampere, University of Vaasa and Design Forum Finland, in collaboration with various companies, funded by Tekes and EU.More information can be found at: www.CelluloseFromFinland.fi
Where: Designmuseum, Korkeavuorenkatu 23, Helsinki
http://www.designmuseum.fi/en/exhibitions/enter_and_encounter-2/
When: 24.3.2017–22.10.2017
When talking about the future of Finland, biomaterials and the circular economy are a critical part of that discussion. Cellulose, which mainly comes from plants (also from bacteria and algae), is one of the most abundant materials found in nature. It is a structural component of plant cell walls, and, together with lignin and hemicellulose, forms the structure of wood. The combination of renewability, recyclability and tunability together with new end-use opportunities makes cellulose the potential super material of the future.
Historically, wood cellulose has had a remarkable role in Finnish industry, though mainly for high volume and low value products. The annual growth of wood biomass in Finland is 104 million m3 and about one fifth of this is not brought into use. This equates to about four million additional tonnes of cellulose per year. If this additional tonnage could be refined into value-added cellulose products and if those products had an estimated price similar to that of cotton, then the value of that additional business for Finland could be worth five billion euros per year. However, we still need to closely monitor that we are using our precious forests in a smart and responsible way.
The New Biomateriality Lab displays some future materials based on cellulose. The ongoing collaboration between designers, architects, material scientists, engineers and business specialists aims to generate a new high-value industry. Through the combination of traditional large-scale and new start-up businesses, the Finnish cellulose ecosystem will be a strong player in the global market of the future.
New Biomateriality Lab – Huomisen biomateriaalit 
Konsepti: New Biomateriality Lab esittelee uusia biomateriaaleja, joiden lähtökohtana on pääosin puu. Materiaalit on kehitetty muotoilua ja materiaalitieteitä yhdistävissä tutkimusprojekteissa. Näyttelyn koordinoi Aalto-yliopiston CHEMARTS -yhteistyöhanke ja mukana ovat projektit DWoC, NoMa, Hiilinielu Designstudio ja Trash2Cash. Kumppaneita ovat Aalto-yliopisto, Teknologian tutkimuskeskus VTT, Lahden ammattikorkeakoulu, Tampereen teknillinen yliopisto, Tampereen ammattikorkeakoulu, Vaasan yliopisto, Design Forum Finland ja lukuisat yritykset. Projektien päärahoittajat ovat Tekes ja EU.
Lisätietoja: www.CelluloseFromFinland.fi
Biomateriaalit ja kiertotalous ovat tulevaisuuden Suomen keskeisiä menestystekijöitä. Yksi yleisimmistä luonnon raaka-aineista on selluloosa, jota tuottavat sekä kasvit että eräät bakteerit ja levät. Selluloosaa saadaan kasvisolujen seinämistä, ja yhdessä hemiselluloosan ja ligniinin kanssa se muodostaa puun rakenteen. Selluloosan uusiutuvuus, kierrätettävyys ja muokattavuus tekevät siitä tulevaisuuden mahdollisen supermateriaalin.
Puu- ja paperiteollisuudella on ollut kautta historian merkittävä rooli Suomen taloudessa. Tuotteet ovat olleet enimmäkseen suuren volyymin massatuotteita. Suomen puuston vuotuinen kasvu on noin 104 miljoonaa kuutiometriä, josta jää hyödyntämättä viidennes eli neljä miljoonaa selluloosatonnia. Jos tämä määrä selluloosaa jalostettaisiin hinnaltaan puuvillaa vastaaviksi tuotteiksi, tuotannon arvo olisi viisi miljardia euroa vuodessa. Metsä merkitsee kuitenkin muutakin kuin materiaalilähdettä, joten sen tuottamat arvokkaat raaka-aineet pitäisi osata käyttää viisaasti ja vastuullisesti, luontoa kunnioittaen.
New Biomateriality Lab tuo esille materiaaleja, joiden lähtökohtana on selluloosa eri muodoissaan. Yhdistämällä muotoilijoiden, arkkitehtien, liiketoimintaosaajien ja materiaalitutkijoiden osaaminen on mahdollista lisätä selluloosan ja muiden uusiutuvien materiaalien käyttöä erityisesti korkean lisäarvon tuotteissa. Samalla Suomeen syntyy uusi  biomateriaaleihin perustuva toimijaverkosto, joka on vahva tulevaisuuden ratkaisujen kehittäjä myös maailmanlaajuisesti.