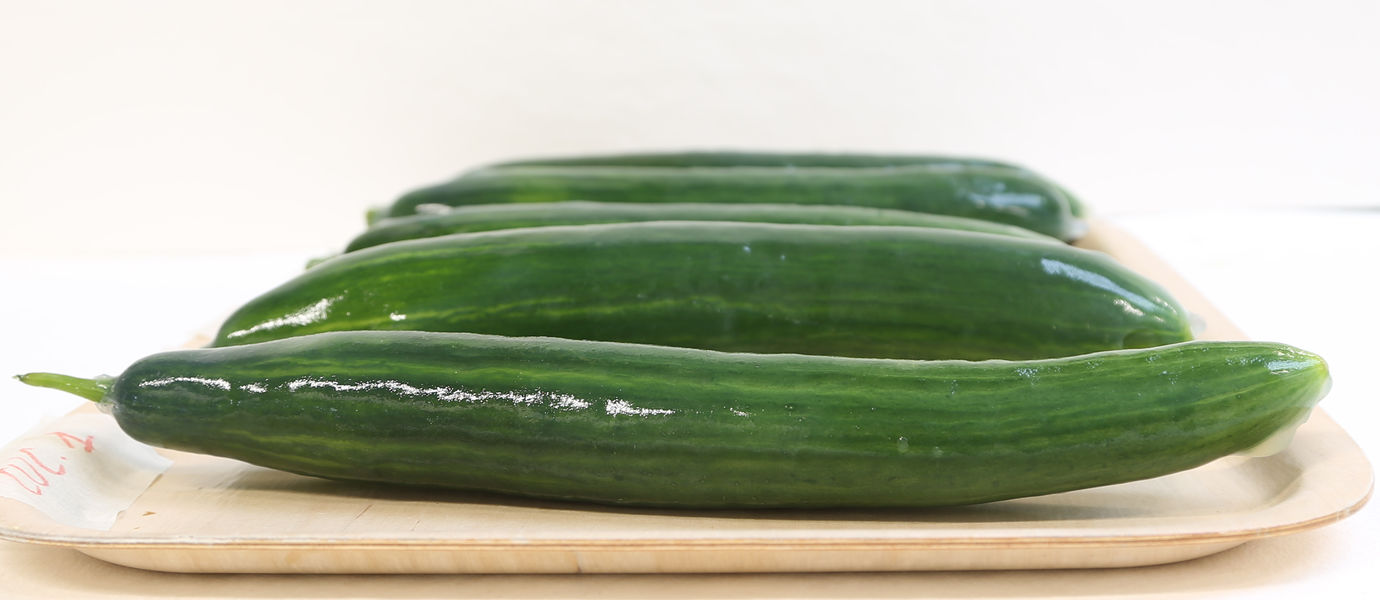 DipWrap is a sustainable alternative to plastic shrink wrap used to protect grocery store produce. Vegetables and fruits are dipped into an aqueous solution of DipWrap consisting of agar, cellulose nanocrystal, and carnauba wax which then forms a solid film. Once peeled off, the biodegradable film can be easily disposed.
DipWrap is a project by a team of four CHEMARTS alumni. The project is part of Biodesign Challenge (BDC) 2021 and it is the second time when a team from Aalto University is participating in the competition and first time to win a prize. Biodesign Challenge is an international education program and competition in the field of biodesign. The competition has been arranged every year since 2016. The BDC Summit 2021 was held online in June.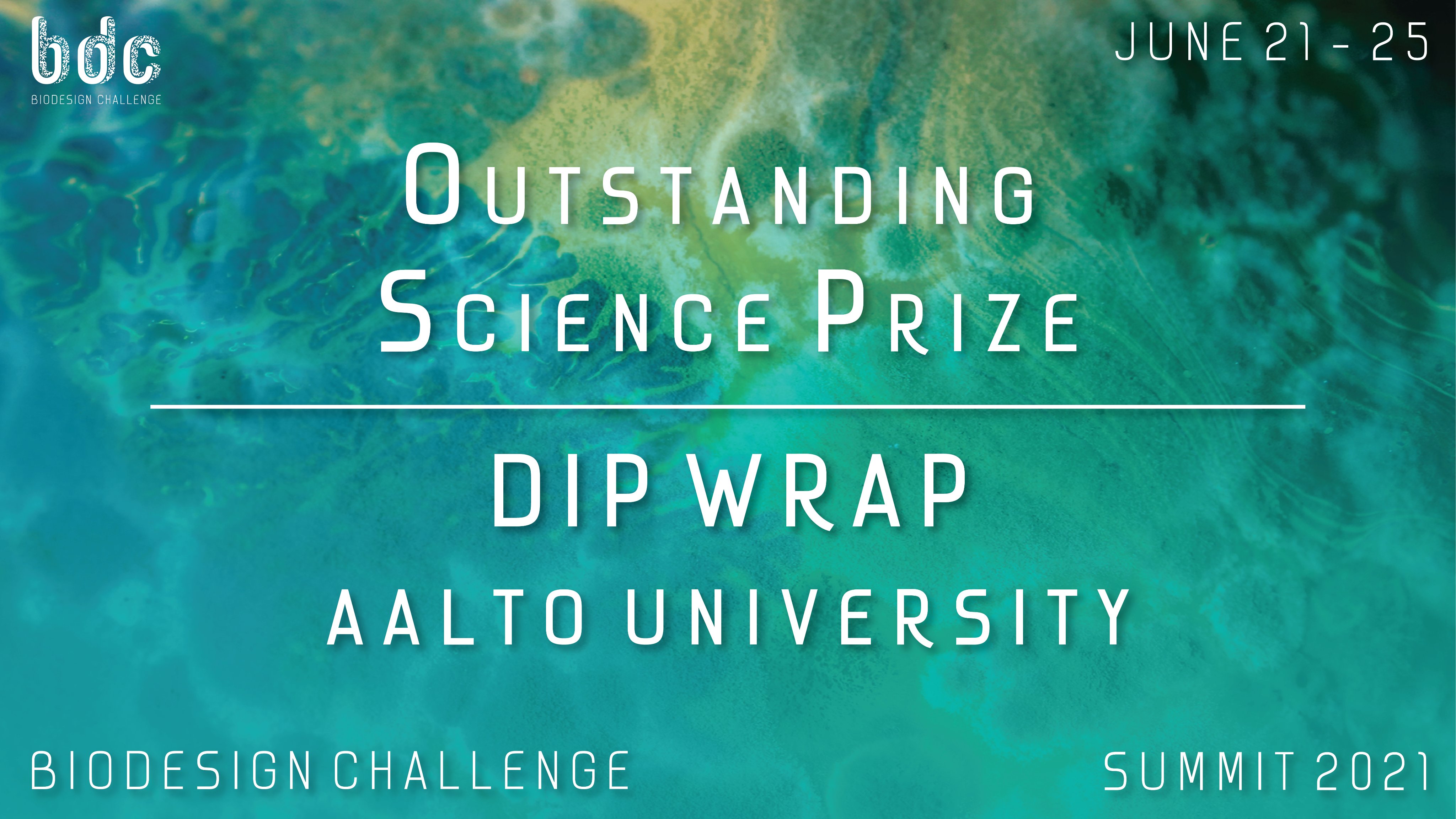 Team members
Emilia Ikävalko
I am a first year chemical engineering student. I am going to major in chemistry and materials science. Our concept DipWrap is dear to me because I want to take actual steps to better the world, already early in my studies. In addition to sustainability, combining science with creativity has been fun!
Louise Kallai
I am an exchange student doing my first year of Master's at Aalto University, School of Chemical Engineering. I come from Belgium where I am studying material science and chemical engineering at the "Université libre de Bruxelles". I am particularly interested in finding solutions for a more sustainable and environmentally friendly society. As a future engineer, I strongly believe that solving problems from small to large scale through a multidisciplinary approach is the key to a better tomorrow. This is exactly what our DipWrap project aims to do in order to cope with plastic pollution and I am proud to contribute to this innovative idea.
Sari Kupiainen
I am a first year chemical engineering student, majoring in bioproducts. I aim to make environmentally conscious decisions every day, and I have noticed that avoiding single-use plastic packaging is sometimes close to impossible. Single-use plastics are often tossed away after a very short use period, yet they have a long and lethal life in nature. The other problem with single-use plastic is that they are difficult to recycle. That is why it is important to start replacing them with alternative materials. I am so proud of how
our DipWrap project turned out and it gives hope that a future without single-use plastics is possible.
Ena Naito
I am a master's student in Contemporary Design at Aalto. My personal interest lies in the experimental processes of material research while simultaneously working towards a collaborative goal. At the same time, my previous engagements in teaching and education have also sparked my ambition to facilitate creative means of knowledge-sharing. Through CHEMARTS, I am especially interested in combining critical design with material experimentation, and to explore behavioural changes that stem from new ways of approaching designs and disciplines. (As a side note, I eat cucumbers almost every day – they're delicious with hummus!)
Team: Louise Kallai, Ena Naito, Emilia Ikävalko and Sari Kupiainen.

Instructors
Pirjo Kääriäinen is Associate Professor of Design and Materialities at Aalto University's School of Arts, Design, and Architecture. Her background is in textile design and manufacturing. Together with professor Tapani Vuorinen she has facilitated the interdisciplinary CHEMARTS collaboration between the School of Arts, Design, and Architecture (ARTS) and the School of Chemical Engineering (CHEM) since 2011. CHEMARTS aims to inspire students and researchers to explore design-driven approaches in materials research and to create future-oriented concepts, applications, and business seeds for a more sustainable world of materials.
Janika Lehtonen is currently working as a university teacher in the CHEMARTS program at Aalto University. She holds a D.Sc. (Tech.) degree in bioproduct technology from Aalto University. She is interested in the new opportunities provided by sustainable bio-based materials and multidisciplinary collaboration in the fields of science and art and design. Her research work has included studying the biofabrication of nanocellulosic 3D structures and the utilization of cellulose nanomaterials for water purification.
Tapani Vuorinen is Professor of Forest Products Chemistry at Aalto University's School of Chemical Engineering, Finland. He has co-authored over 200 peer-reviewed scientific papers on the structure and chemistry of plant biomass and its conversion into chemical and material products. His current research focuses on the chemistry, nanostructure, and reactivity of the plant cell wall. Besides his own scientific substance, Tapani has promoted collaboration between academic disciplines, external stakeholders, and the public through co-organizing interdisciplinary CHEMARTS courses, real-life boot camps, and other partnerships within industrial companies and secondary schools.
Inspired to replace plastic packaging
Have you ever wondered how to limit your impact on the environment, how to reduce your waste and live more sustainably? These are the questions we asked ourselves before creating DipWrap. Currently cucumbers are shrink wrapped with plastic film, especially polyethylene packaging. Every year, 380 million tons of plastics are produced and 8 million tons are released into the oceans, causing food chains poisoning and threatening wildlife. Plastics take more than 400 years to decompose and 83% of all plastic packaging goes into landfills. This is why recycling is important. However, plastic recycling rates remain low for now. So, in addition to finding new solutions to enhance the recycling rate, we can also look for new packaging materials which are more sustainable and eco-friendly.
How was DipWrap developed?
We first had to choose a general theme of interest related to the 12th sustainable development goal responsible consumption & production. We decided to focus on packaging and we had a first meeting together to discuss about an innovation that could be useful to develop. We were all agreeing on the fact that plastic packaging in the food industry is a current important challenge. We were wondering if this is really necessary to have a plastic film around cucumbers for example. After some research, we realised that cucumbers need to be wrapped because of their high water content and in order to protect them and extend their freshness. But why always use plastic? We then had the idea to develop a liquid mixture containing bio-based materials. We went to the lab one time per week during one month, tested several materials, carried out many trials in different experimental conditions. This is how DipWrap was born!
References
Azeredo, H. M. C., Rosa, M. F., & Mattoso, L. H. C. (2017). Nanocellulose in bio-based food packaging applications. Industrial Crops and Products, 97, 664–671. https://doi.org/10.1016/j.indcrop.2016.03.013
BBC. (2018, June 5). What is the problem with plastic? – CBBC Newsround. Bbc.co.uk. https://www.bbc.co.uk/newsround/42810179 (Retrieved 28 May, 2021)
Dabai Y., Muhammad S. (2005). Cassava starch as an alternative to agar-agar in microbiological media. African Journal of Biotechnology, 4(6), 573-574.
Fakhouri, F. M., Casari, A. C. A., Mariano, M., Yamashita, F., Mei, L. H. I., Soldi, V., & Martelli, S. M. (2014). Effect of a gelatin-based edible coating containing cellulose nanocrystals (CNC) on the quality and nutrient retention of fresh strawberries during storage. IOP Conference Series: Materials Science and Engineering, 64(1), 012024. https://doi.org/10.1088/1757-899x/64/1/012024
Garcia R., Stevanovic T., Berthier J., Njamen G., Tolnai B., Achim A. (2021). Cellulose for facemasks. BioResources, 16(2), 4321-4353.
Gebre, E., & Sathyanarayana, B. N. (2001). Tapioca-a new and cheaper alternative to agar for direct in vitro shoot regeneration and microtuber production from nodal cultures of potato. African Crop Science Journal, 9(1). https://doi.org/10.4314/acsj.v9i1.27618
Gognies, S., & Belarbi, A. (2010). Use of a new gelling agent (Eladium©) as an alternative to agar-agar and its adaptation to screen biofilm-forming yeasts. Applied Microbiology and Biotechnology, 88(5), 1095–1102. https://doi.org/10.1007/s00253-010-2800-3
Lin, N., & Dufresne, A. (2014). Nanocellulose in biomedicine: Current status and future prospect. European Polymer Journal, 59, 302–325. https://doi.org/10.1016/j.eurpolymj.2014.07.025
McGuffey, J. C., Leon, D., Dhanji, E. Z., Mishler, D. M., & Barrick, J. E. (2018). Bacterial Production of Gellan Gum as a Do-It-Yourself Alternative to Agar. Journal of Microbiology & Biology Education, 19(2). https://doi.org/10.1128/jmbe.v19i2.1530
Moore, C. (2019). Plastic pollution – Plastic pollution in oceans and on land. In Encyclopædia Britannica. https://www.britannica.com/science/plastic-pollution/Plastic-pollution-in-oceans-and-on-land
Mu, R., Hong, X., Ni, Y., Li, Y., Pang, J., Wang, Q., Xiao, J., & Zheng, Y. (2019). Recent trends and applications of cellulose nanocrystals in food industry. Trends in Food Science & Technology, 93, 136–144. https://doi.org/10.1016/j.tifs.2019.09.013
Ritchie, H., & Roser, M. (2018). Plastic Pollution. Our World in Data. https://ourworldindata.org/plastic-pollution#:~:text=The%20world%20now%20produces%20more
Roman, M. (2015). Toxicity of Cellulose Nanocrystals: A Review. Industrial Biotechnology, 11(1), 25–33. https://doi.org/10.1089/ind.2014.0024
Usborne, Simone. A lesson in packaging myths: Is shrink-wrap on a cucumber really mindless waste? (2012, November 22). The Independent. https://www.independent.co.uk/life-style/food-and-drink/features/lesson-packaging-myths-shrink-wrap-cucumber-really-mindless-waste-8340812.html (Retrieved 28 May, 2021)
Vanderfleet, O. M., & Cranston, E. D. (2020). Production routes to tailor the performance of cellulose nanocrystals. Nature Reviews Materials, 6(2), 124–144. https://doi.org/10.1038/s41578-020-00239-y