A new open access book called Materialising the Future details an innovative approach to teaching and designing emerging materials and technologies.
Edited by Venere Ferraro, Pirjo Kääriäinen, Paz Morer-Camo, and Anke Pasold, this book uncovers the theoretical foundations of working with and for groundbreaking Emerging Materials and Technologies (EM&Ts) such as Interactive Connected Smart Materials, Wearables (ICS), Nanomaterials, Advanced Growing Materials, and Experimental Wood-Based Materials.
Collaboratively developed through the European Project DATEMATS, this book sheds light on the potential and practical applications of EM&Ts. It equips designers with frameworks and guidelines to unleash the power of these materials and create groundbreaking innovations. 
In addition, "Materialising the Future" bridges the gap between academia and industry by showcasing how the unique design teaching method developed within DATEMATS can be effectively communicated to companies across different sectors. By connecting stakeholders from both realms, the book encourages fruitful collaborations that drive innovation and offer ideas for further development and improvement.
Whether you're a designer, researcher, industry professional, or enthusiast, this accessible and valuable resource is a must-read. Dive into "Materialising the Future" and unlock the limitless possibilities of design and EM&Ts for a brighter future.
Read more and download a free copy of the book.
Writers
Aitor Cazón-Martin
Gemma Esteban, Geraldine Kann, Veronica Sarbach & Daniela Amandolese
Venere Ferraro
Tarja-Kaarina Laamanen & Pirjo Kääriäinen
Alba Obiols
Stefano Parisi
Anke Pasold
Robert D. Thompson Casas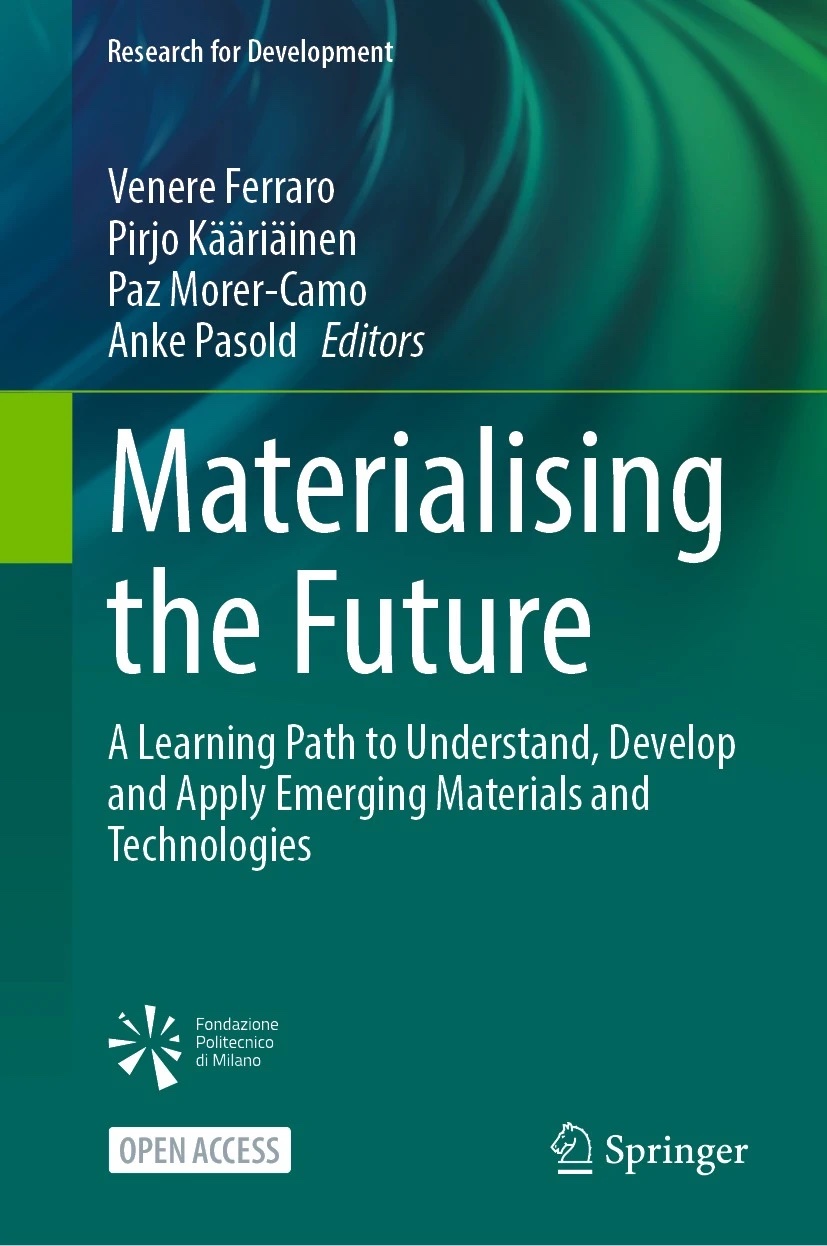 About the editors
Venere Ferraro, Ph.D. in Industrial Design, is Associate Professor at the Design Department of Politecnico di Milano. She has been Visiting Researcher at the University of New South Wales of Sydney (2006) and at the Media Lab of Massachusetts Institute of Technology (2009), where she conducted research on Wearable Systems with the lens on design-driven and user-oriented approaches. She is a Member of the Experience and Interaction Design Research Lab, she has participated in several international and national research projects, and she has been the principal Investigator of the research project POD: Plurisensorial (SAF€RA 2014 joint call). She is currently the Coordinator of the European Project "DATEMATS" (KA2-2018). Her main research activity is focused on the role of interaction design in the use of disruptive technology (Wearable/smart textile and AI), in particular, on how to exploit the potential of digital technologies to design experiential systems in both the private and public sectors. Her research is characterized by human-centered design, and her research interests lie in the field of wearable devices, smart interactive systems for well-being, with particular attention paid to tools and methods for changing user behavior. She is the author of several international publications, and she holds a number of both international and national patents and models.
Pirjo Kääriäinen is Associate Professor of Design and Materialities at Aalto University's School of Arts, Design, and Architecture. Her background is in textile design and manufacturing. Together with Professor Tapani Vuorinen, she has facilitated the interdisciplinary CHEMARTS collaboration between the School of Arts, Design, and Architecture (ARTS) and the School of Chemical Engineering (CHEM) since 2011. CHEMARTS aims to inspire students and researchers to explore design-driven approaches in materials research and to create future-oriented concepts, applications, and business seeds for a more sustainable world of materials.
Anke Pasold is an Associate professor at the Material Design Lab at the Copenhagen School of Design and Technology, where she is developing the methodological and technological side of the lab and structuring new material-educational programmes. Her research focus is on material practice, in particular, on advanced design methodologies, material formation and fabrication processes, which she explores by means of experimental prototypes – making things tangible between the digital and the physical towards integrated, applied solutions.
Dra. Paz Morer-Camo is Professor at the University of Navarra – Tecnun (Spain). She holds a Ph.D. (1991) in Architecture from the University of Navarra. Specializing in Computer Design, her doctoral thesis focused on realistic representations of 3D models and simulation of virtual environments using computational techniques. She is currently the coordinator of the Industrial Design Engineering degree and is responsible for the Industrial Design area. Currently, she lectures on 'Artistic Drawing', 'Technical Drawing', 'Sustainable Engineering' and 'Design Methodology' to Bachelor students and is coordinator of the subject 'Ethical challenges in Artificial Intelligence' for Master students. She has participated in more than 25 research projects subsidized by different government entities. She has participated in more than 35 international conferences, and she has served as chairman for five international conferences. She has been the editor of three books. She spent three months as a researcher at MIT (Cambridge-USA) in 2007 and a second one-month stay at CalPoly (California) in 2019. She has obtained three six-year research grants from the national committee for the assessment of research action. She has supervised six PhD Theses and more than 100 bachelor thesis projects. She has belonged to the Board of the Ingegraf Association since 2013, serving as its President for four years. She is reviewer of several scientific journals: Sensors, DYNA, and Applied Sciences, among others.