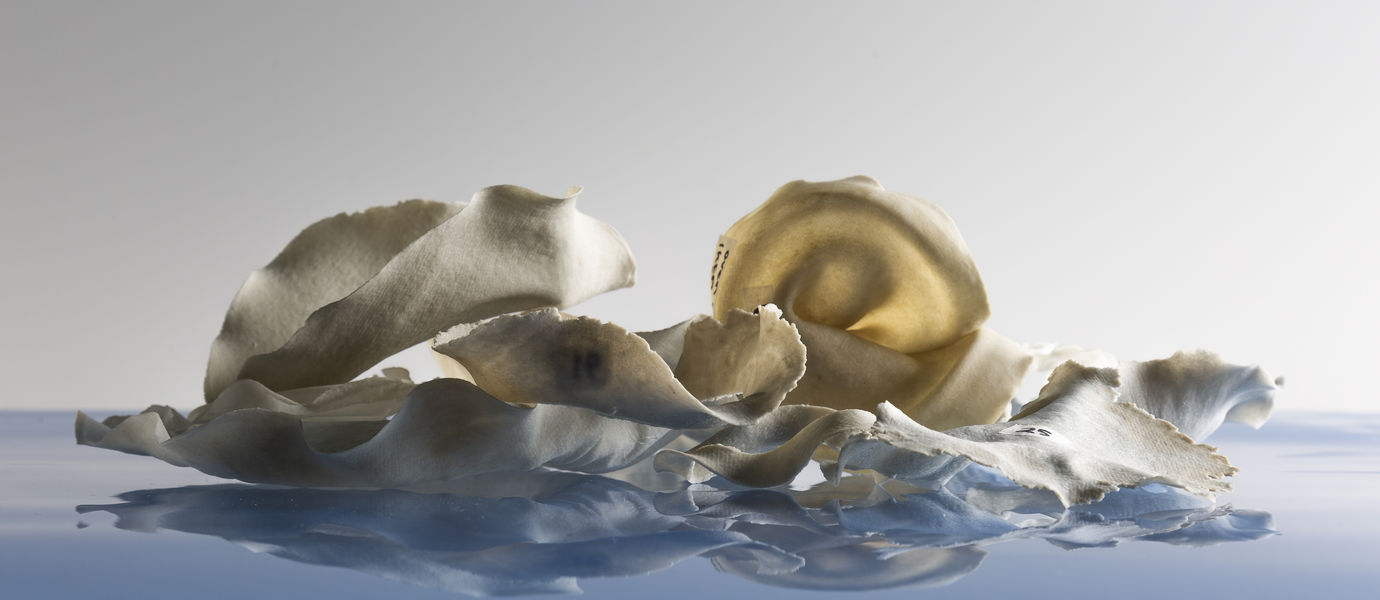 Experimenting with underutilised bio-based materials.
When: –
Where: Väre, Ground floor, Aalto University, Espoo, Finland
Imagine if you could dress in lupin flowers and cover your head with a seaweed hat. Sounds like a fairytale, right? But it could be the future – and not even a far-away one.
Unlikely materials presents a collection of bio-based material innovations and early experiments made with novel technologies. From cellulosic bubble wrap to wood-based superblack colour pigment and garments made of invasive, abundant plant species, the exhibition allows us to imagine an alternative future of materials choices that could do good for the planet.
Read more about the Designs for a Cooler Planet programme.
Image: Material experiments by Tiina Otala and Tuomas Laakkonen, ARTS and Tam Nguyen, CHEM. Photo: Esa Kapila / Aalto University
Welcome to see Aalto University's latest material prototypes by researchers and students.
Showcasing twelve projects and material experiments:
1. WOOD
What black looks like? The Superblack research project turns wood to pitch black.
Research by Bruno Mattos and Bin Zhao, CHEM and Alexey Khakalo, VTT 
2. SOY HULL
A prototype of children's footwear made of hull waste.
Research and design by Ena Naito & Taisa Ferreira Ribeiro, ARTS
3. TREES
The Biollet project explores could ballet slippers be made of 100% biodegradable materials.
Research and design by Ayaka Yamada, ARTS
4. COFFEE GROUNDS
New applications for the coffee ground waste – showcasing prototypes of acoustic panels and explorations of the material properties.
Research by Valenti Soler (acoustic panels) and Andrzej Tarasiuk (material properties), ARTS
The waste coffee grounds were provided by Paulig and Natural Indigo Finland.
5. WHEAT STRAW
Jersey fabric made of agricultural wheat waste with the Ioncell® technology.
Research by Nicole Nygren in collaboration with Michael Hummel's team, CHEM 
The straw pulp was provided by Fortum Oyj and spun into Ioncell® fibres at Aalto University.
6. CATTAIL STEMS and LEAFS
Bio-based alternative to styrofoam.
Research by Lukas Schuck, Harvey Shaw, ARTS, Tilda Ostberg Alagarda and Ada Luukkanen, CHEM
7. ALGAE
The Algae hat project research design possibilities for the material and created a playful hat concept that could be made by anyone at home.
Research by Nina Riutta, ARTS
8. LUPINE
The project investigates alternative textile materials that can be derived from plants that are considered weeds, showcasing first examples of knitted yarn.
Research by Mithila Mohan, ARTS, Maija Vaara, Laura Koskelo and Jaana Vapaavuori, CHEM 
9. NETTLE
Plant mainly considered as a weed – the doctoral research explores nettle fibre and its potential in the textiles sector.
Research by Samica Sadik, University of Helsinki
10. WOOD
Bubbles with Benefits is an experimental material project to create cellulose-based bubble wrap.
Research by Satu Paavonsalo and Valentin Schwarz, ARTS
11. WHEAT STRAW
Exploring potential applications for the straw waste – Utenstraw is a biodegradable, single-use utensils made from straw.
Research and design by Tiina Otala, Tuomas Laakkonen, ARTS and Tam Nguyen, CHEM
Fortum aims to scale up its wheat straw processing by 2028, and novel applications for the growing straw waste.
12. SPRUCE CONES
Exploring natural material for aesthetic purposes – creating new surfaces and textures.
Research and art by Iines Jakovlev, ARTS
Create your own seaweed hat!
The seaweed hat is one of the surprising material experiments on display in this exhibition. But did you know that you can make one too?
Just collect, rinse, felt on a mold and let dry. Soon you'll have a seaweed hat, lamp shade or a bowl of your own.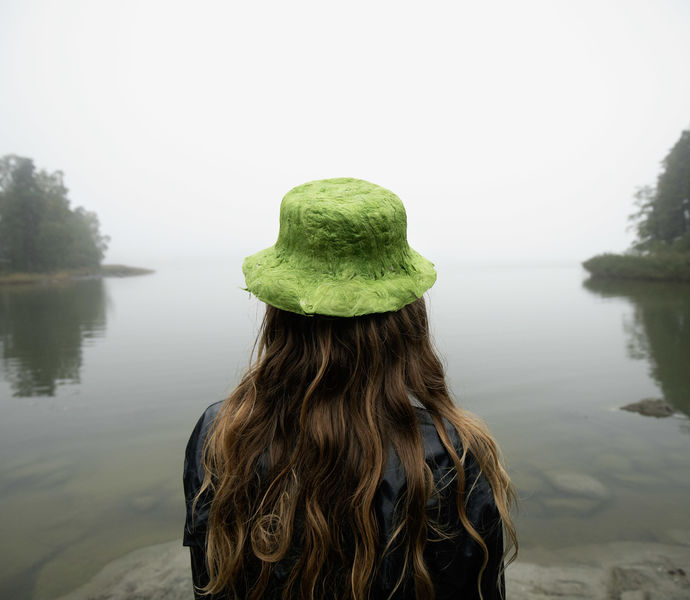 Algae research and experiments by Nina Riutta. Photo: Mitja Harvilahti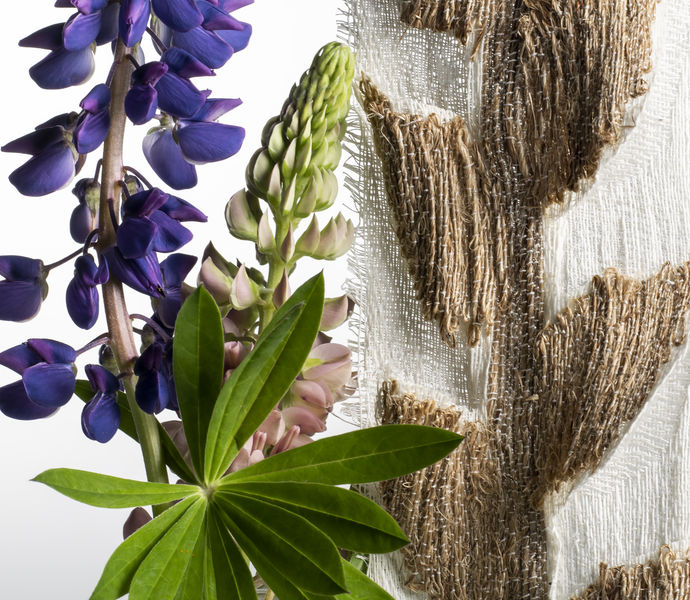 Lupin experiments Maija Vaara and Mithila Mohan. Photo: Anne Kinnunen / Aalto University
Exhibition team:
Co-curated by Pirjo Kääriäinen, Associate professor, Design and Materialities and Enni Äijälä, Senior specialist, Outreach with partners, Aalto University
Exhibition design, Baldur Haraldsson, student in Interior Architecture, Aalto University
Thank you Anna van der Lei.
Additional information:
Pirjo Kääriäinen
Associate professor, Design and Materialities
pirjo.kaariainen@aalto.fi
Enni Äijälä  
Senior specialist, partners and outreach
+358 50 359 4810
enni.aijala@aalto.fi