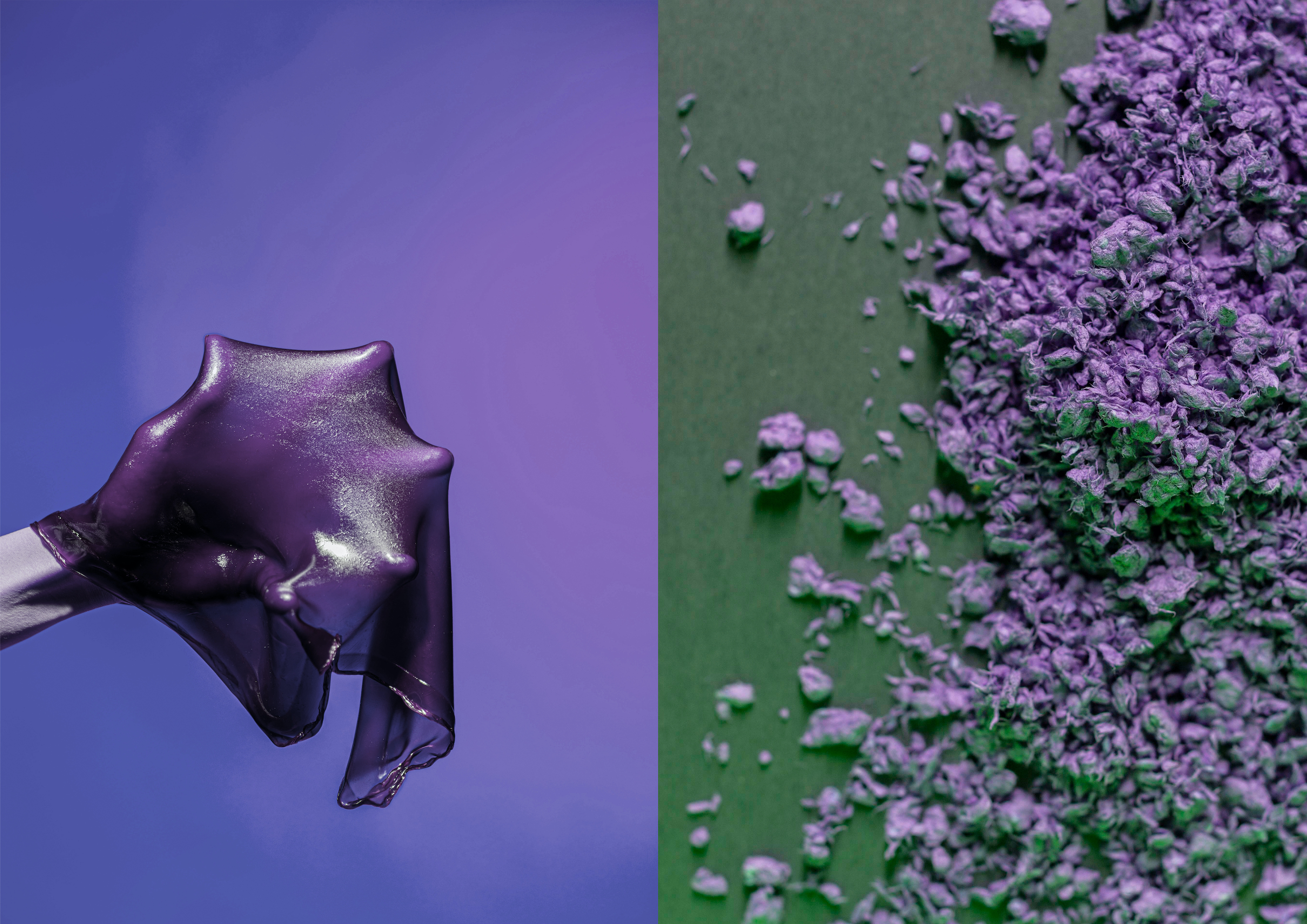 Where: Aalto University Campus, Väre 1st floor, FE lobby
When: 8.-29.9.2021
Materialising the Future – CHEMARTS 10 years exhibition is inspired by often asked questions related to bio-based materials, such as Why to recycle bio-based materials? Can bio-based materials replace plastics? Does it make sense to use trees as materials?  
These questions are addressed by 10 displays showing some fascinating samples of student work from the past years. The exhibition also includes photographs and publications from the past years visualising the evolution of CHEMARTS from the first idea in the autumn 2011 into various activities and research projects going on today. Tiny seeds of inspiration have grown into a versatile and international community of material enthusiasts.
Examples of the exhibition themes and the exhibited work:
NATURE INSPIRES MATERIAL RESEARCH
CHEMARTS is the long-term collaboration project between two Aalto University schools; the School of Chemical Engineering (CHEM) and the School of Arts, Design and Architecture (ARTS). These schools combined forces in 2011 with the aim of researching bio-based materials in an innovative way and creating new concepts for their advanced use. The core values are the sustainable use of natural resources, experimental working methods, and the respectful cross-pollination of design and material research. CHEMARTS arranges multidisciplinary study courses, thesis projects, and workshops and the team members participate in externally funded research projects. Over 500 students have taken part in the CHEMARTS courses over the past ten years. The CHEMARTS Cookbook was published 2020 to share the experiences and recipes internationally.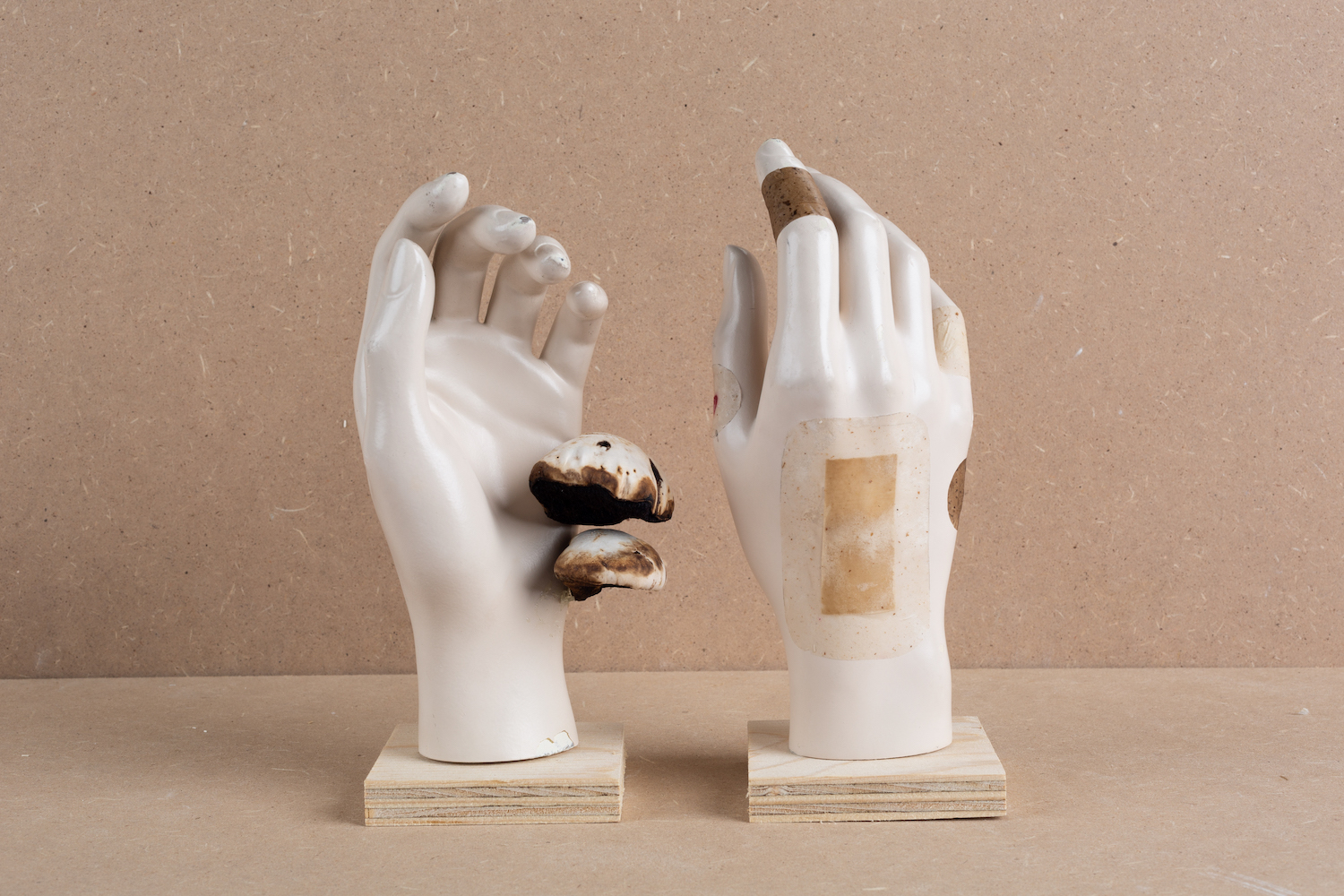 BETULINA – ANCIENT REMEDIES REDISCOVERED
SONJA DALLYN & LINH TONG, CHEMARTS SUMMER SCHOOL 2020
Birch Polypore has been used in traditional medicine all over the Northern Hemisphere for thousands of years. These bandages consist of three biodegradable layers: a water-resistant chitin coating, a skin-safe adhesive-layer, and a non-adhesive healing-layer. They are derived from natural ingredients, with 80% from Fomitopsis Betulina, the Birch Polypore. The properties of F. Betulina in medical applications include anti- inflammatory, anti-bacterial, antiviral and antiseptic agents.
WHAT IS CELLULOSE? WHERE DOES IT COME FROM?
Cellulose is the most common biopolymer on the earth. It is one of the three components of wood, others being hemicellulose and lignin. It can also be found in all plants and even algae. Through dierent chemical and physical modifications it is possible to produce cellulose materials with varying textures, feels, transparencies and formability. Cellulosic materials have been used industrially for a long time, and include various grades of paper pulp used for printing and packaging, cotton fibres in textile manufacturing, and numerous chemical derivatives of cellulose which can possess plastic-like properties or dissolve in water. Dierent types of nanocelluloses (nanocrystalline cellulose, nanofibrillar cellulose, bacterial cellulose) are a newer addition to this family of materials. Potential products range from composites, gels, emulsions, and barrier films to cosmetics and biomedical applications.
Source: The CHEMARTS Cookbook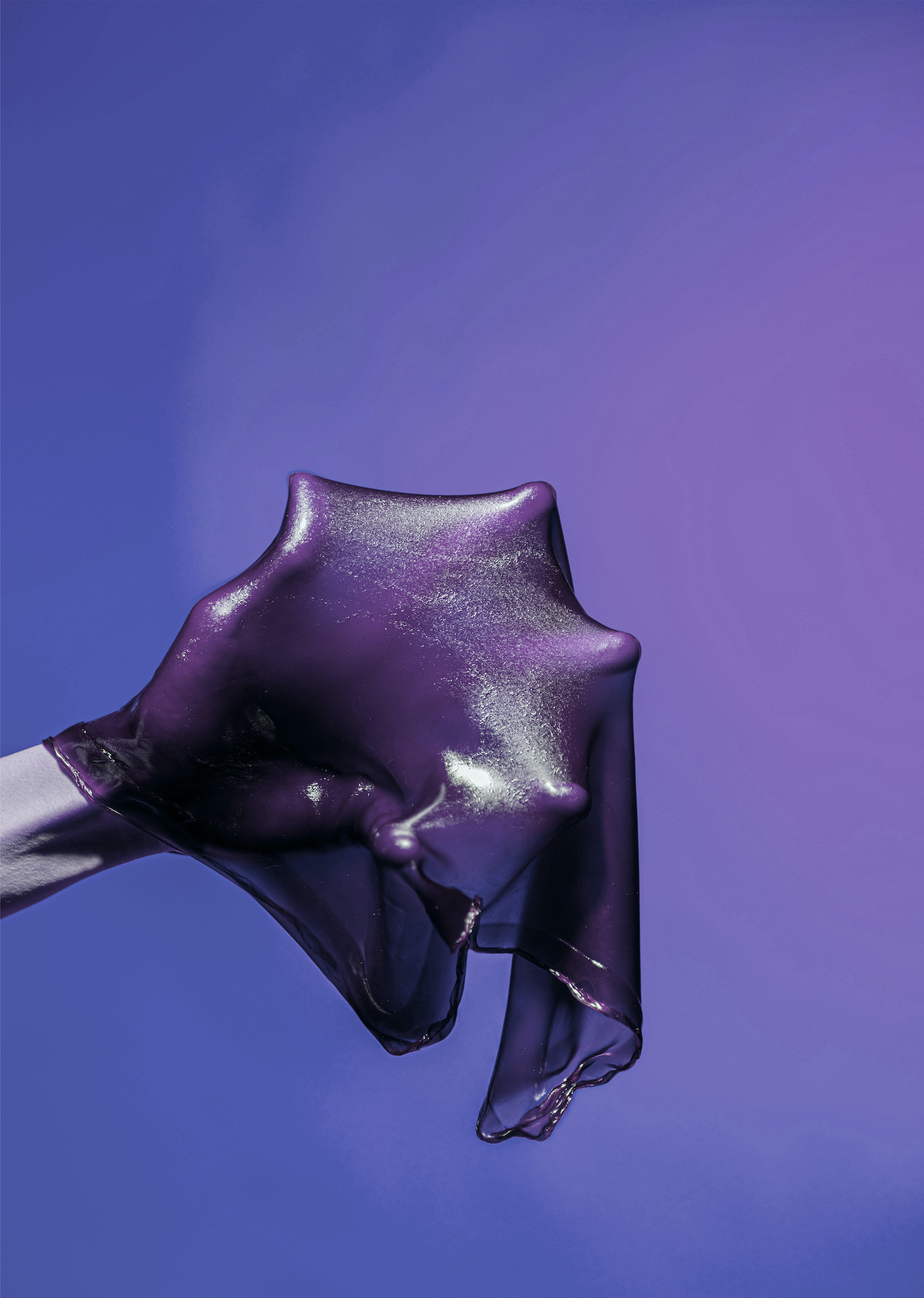 BIO SLIME FOR SUSTAINABLE PLAYING
CHIAO-WEN HSU & YU CHEN, CHEMARTS SUMMER SCHOOL 2019
Making DIY slimes has become extremely popular in recent years, especially among school children. Bio Slime is an experimental, stretchable, elastic and slightly sticky bio-based slime. It is made of water, microcrystalline cellulose, carboxymethyl cellulose, glycerol, and does not contain toxic or harmful chemicals. When playing is over, the slime can be composted or recycled in a bio-bin.
WHY TO LEARN NEW MATERIALS AND TECHNOLOGIES?
To change the existing material world, more knowledge of the origin, processing and lifecycle of the materials is needed. What might be the potential pathways towards new materials, where might they come from, and how should they be produced and used to create a more sustainable material world? As the experts from Sitra explain in the chapter of 'Lost in the Wood(s)': 'Materials know-how in the material development and product design phase are essential elements of an approach to the circular economy. We cannot stress enough just how important these phases of the life cycle are. Early phase decisions play a significant role in the product life cycle, which enables the transition towards the
circular economy.'
Source: Lost in the Wood(s) – The New Biomateriality in Finland

DATEMATS PROJECT: A DESIGN-DRIVEN APPROACH FOR KNOWLEDGE TRANSFER OF EMERGING MATERIALS AND TECHNOLOGIES
International Datemats project aims to implement a unique design-led teaching method for students with design and engineering background in the field of emerging materials and technologies, and to boost knowledge and technology transfers from academia and research institutes to industry. The research project is co-funded by the Erasmus+ Programme of the European Union 2019-2021.
CAN I BUY THIS? WHY NOT?
Material development from the original idea and first trials to real products is a long process. Depending on the industry it might take from 5 to 15 years. The process often requires both fundamental and applied research before commercialisation can be finalised. A good example is the development of Ioncell textile fibres at Aalto University. Ioncell is a technology that turns used textiles, pulp or even old newspapers into new textile fibres sustainably and without harmful chemicals. The process converts cellulose into fibres which in turn can be made into long-lasting and recyclable fabrics. The Ioncell technology development has been led by Aalto University over ten years and scaling up will still take more years. Several design students have been prototyping with the new textile fibres since 2013.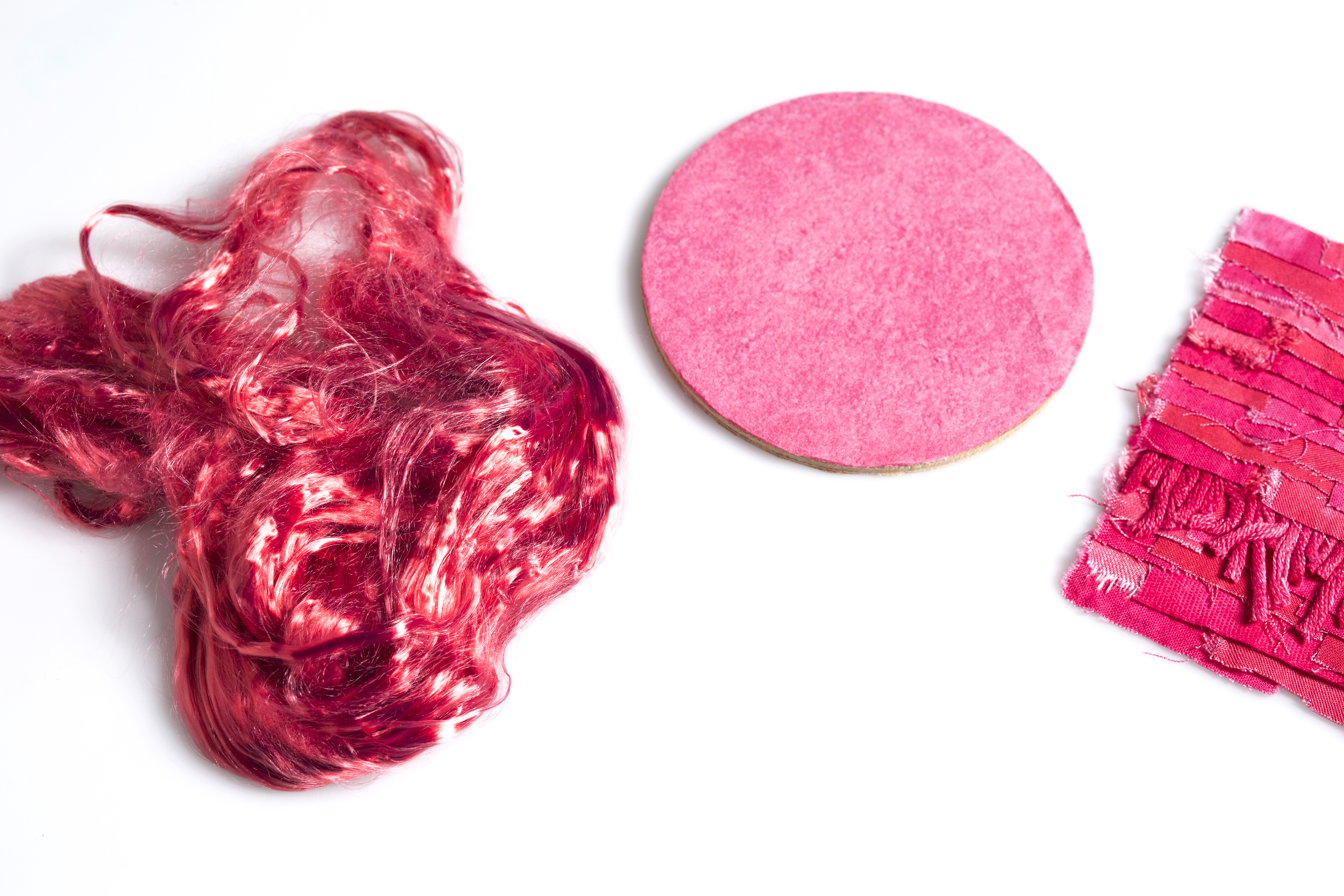 RE-IN-COLOURED: RECYCLING COLOUR IN IONCELL PROCESS
EUGENIA SMIRNOVA & ZHEN ZENG, CHEMARTS SUMMER SCHOOL 2015
Inspired by sustainability and the new Ioncell technology, students tested how various waste materials and their colours could be chemically recycled into new materials. As textile dyeing is one of the most polluting phases in textile production, colour recycling would oer a tool to reduce the environmental impact of the industry. The idea has been further researched by the Ioncell research team and hopefully will be implemented one day.
DOES IT MAKE SENSE TO USE TREES FOR MATERIALS?
In Finland 75% of the land area is covered by dierent type of forests, of which 12 % are protected. How can we use wood-based biomass in a sustainable way? How can we take care of the biodiversity? Ongoing discussion is often heated and answers vary depending on whether they come from the forest industry, environmental organisations or research communities. According to an international report on sustainable use of bioresources in the EU, wood-based biomass should be used mostly in high added value products such as furniture, construction, fibre products, textiles and chemicals (The Finnish broadcasting company YLE 29.6.2021). The most abundant biopolymer on the earth, cellulose, is a good candidate as an alternative for fossil-based raw materials. Trees can be used if the whole forest ecosystem is taken care of and all the precious compounds found in trees are used wisely.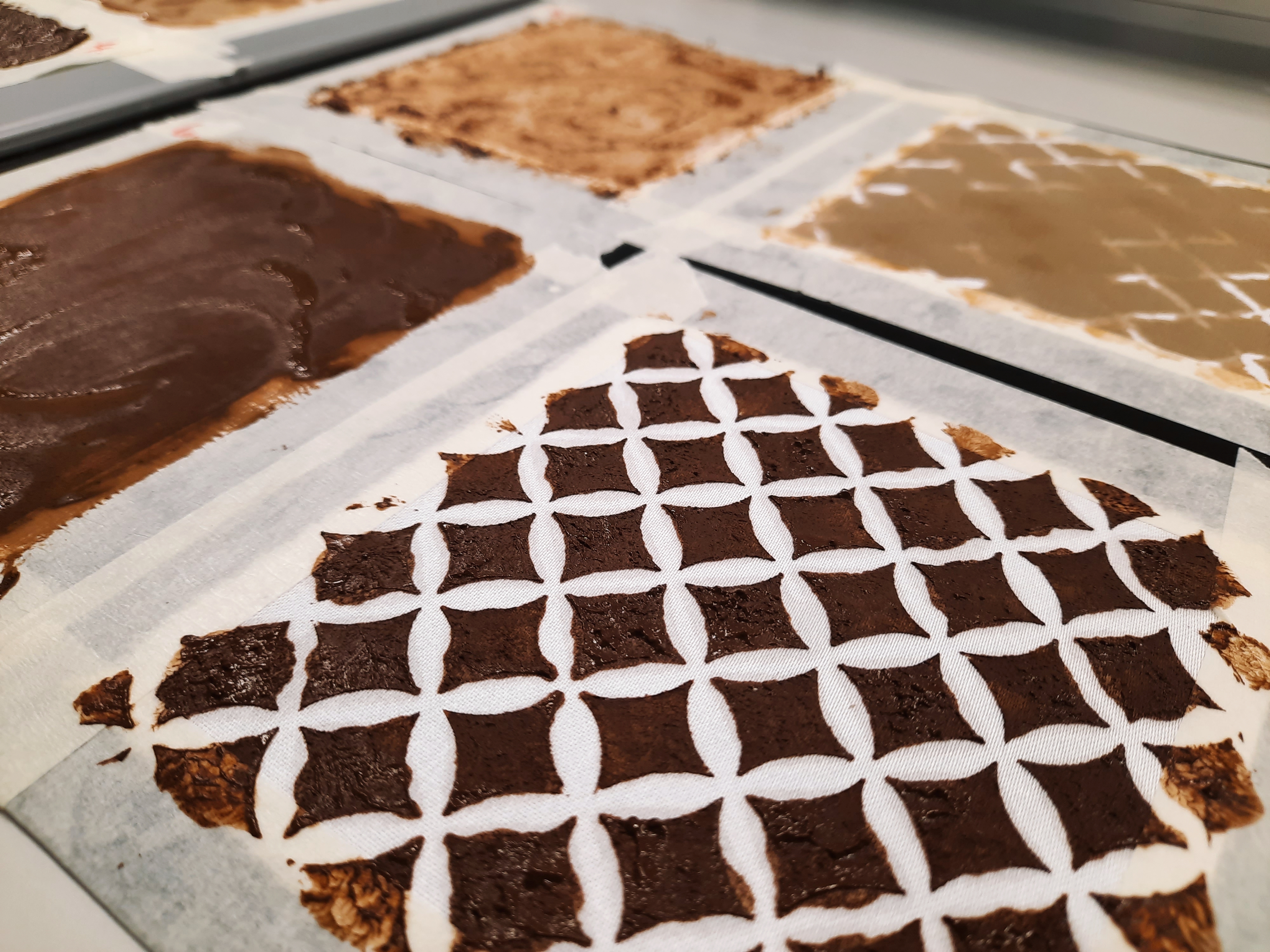 50 SHADES OF BROWN – COLORING TEXTILES WITH LIGNIN
PIA JOHANSSON, CHEMARTS PROJECT 2021
Lignin is one of the three main components of wood. Could the deep brown color of lignin be used in the textile industry in the future? In this experimental project the student focused on exploring lignin for dyeing and printing of cellulose-based textiles. In addition to good results in washing tests, printed fabrics had a very special feel that could be a point of dierence and used in accessories or other items. The concept was inspired by the ongoing Biocolour research project.
WHY RECYCLE BIO-BASED MATERIALS?
When moving towards the circular economy, we will consider all waste and side streams as a raw material for something new. For example, there is a massive amount of flower waste containing plastic and other non-biodegradable materials in the landfills all around the world. In Thailand where flowers are ingrained into their way of life, the problem is huge. Bangkok's Pak Klong Talat flower market with over 500 vendors runs 24hrs a day, 7 days a week. This generates roughly one cubic meter of flower waste per vendor, per week, and a single wedding can take up to 3-5 tons of flower decorations. In addition, various sources refer to '40%' as the percentage of the flowers grown commercially that are thrown away before they even reach consumers. Instead of letting the flowers end up as trash, we can turn them into many kinds of bio-materials that could be used as an  alternative to unsustainable materials.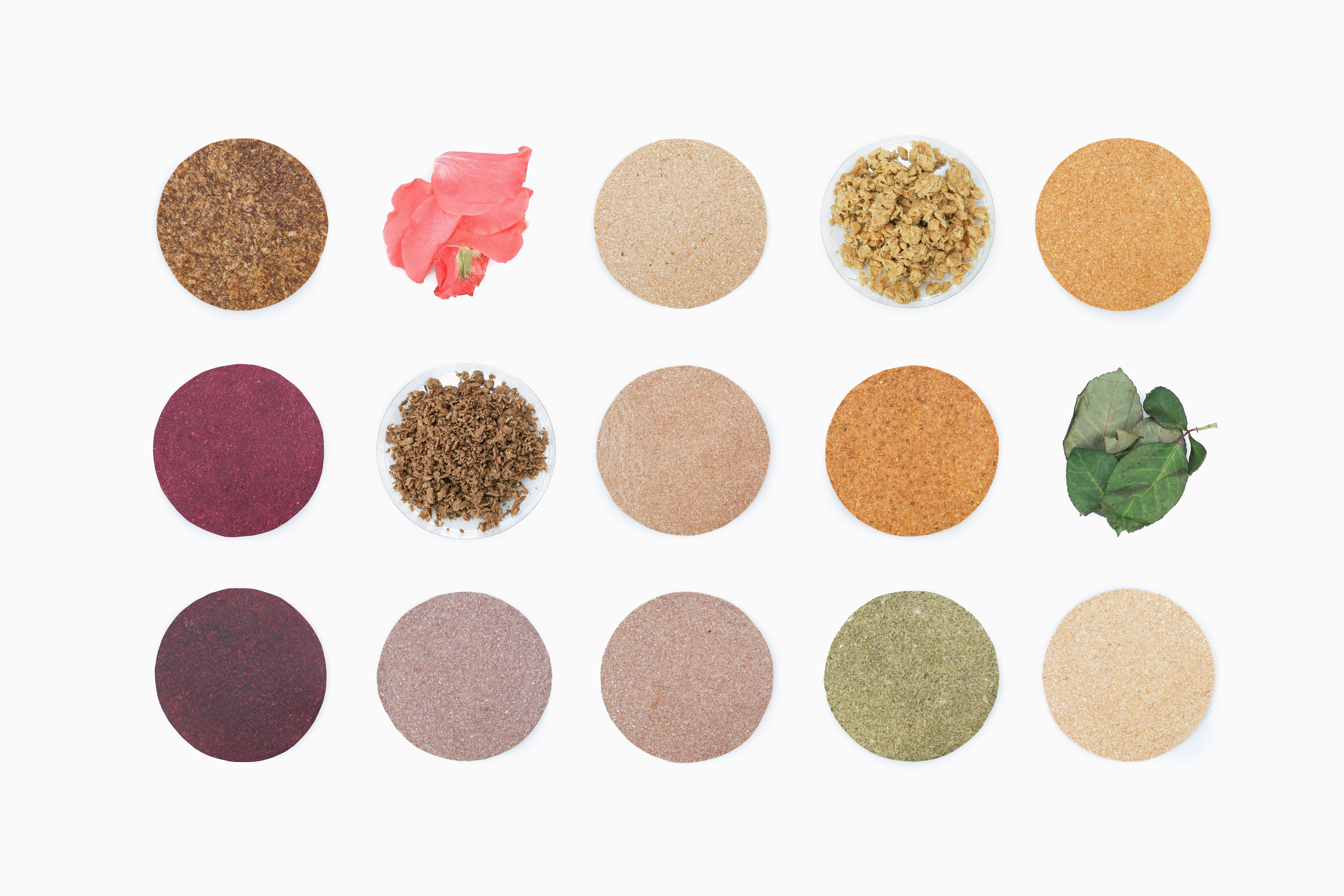 FLOWER MATTER: INNOVATIVE MATERIALS FROM FLOWER WASTE
IRENE PURASACHIT, MASTER OF ARTS THESIS PROJECT 2021
Flower Matter aims to provide a solution to the floral waste problem by converting the waste into various kinds of materials such as paper, bio-leather and bio-foam. The stems and leaves contain fibres which can be turned into pulp while vibrant dyes and pigments can be derived from their petals. By turning surplus, used and discarded flowers into Flower Matter, we can divert nearly 100% of flower waste from landfills.
CAN BIO-BASED MATERIALS REPLACE PLASTICS?
In the coming years, our material world will change dramatically. The overuse of existing raw materials cannot continue and global consumption must decrease. However, our need for materials will not disappear. Also in the future, we need materials to nurture us, cover us, comfort us, delight us, and keep us alive. This means we need plenty of information, new ideas, collaboration across all borders and hard work to replace our existing material systems and consumption habits with more sustainable ones. Bio-based, recyclable or biodegradable materials from renewable sources are often considered the best alternative to currently dominant fossil-based ones but things can't be simplified too much. Properly designed material flows and product lifecycles are needed urgently.
Source: The CHEMARTS Cookbook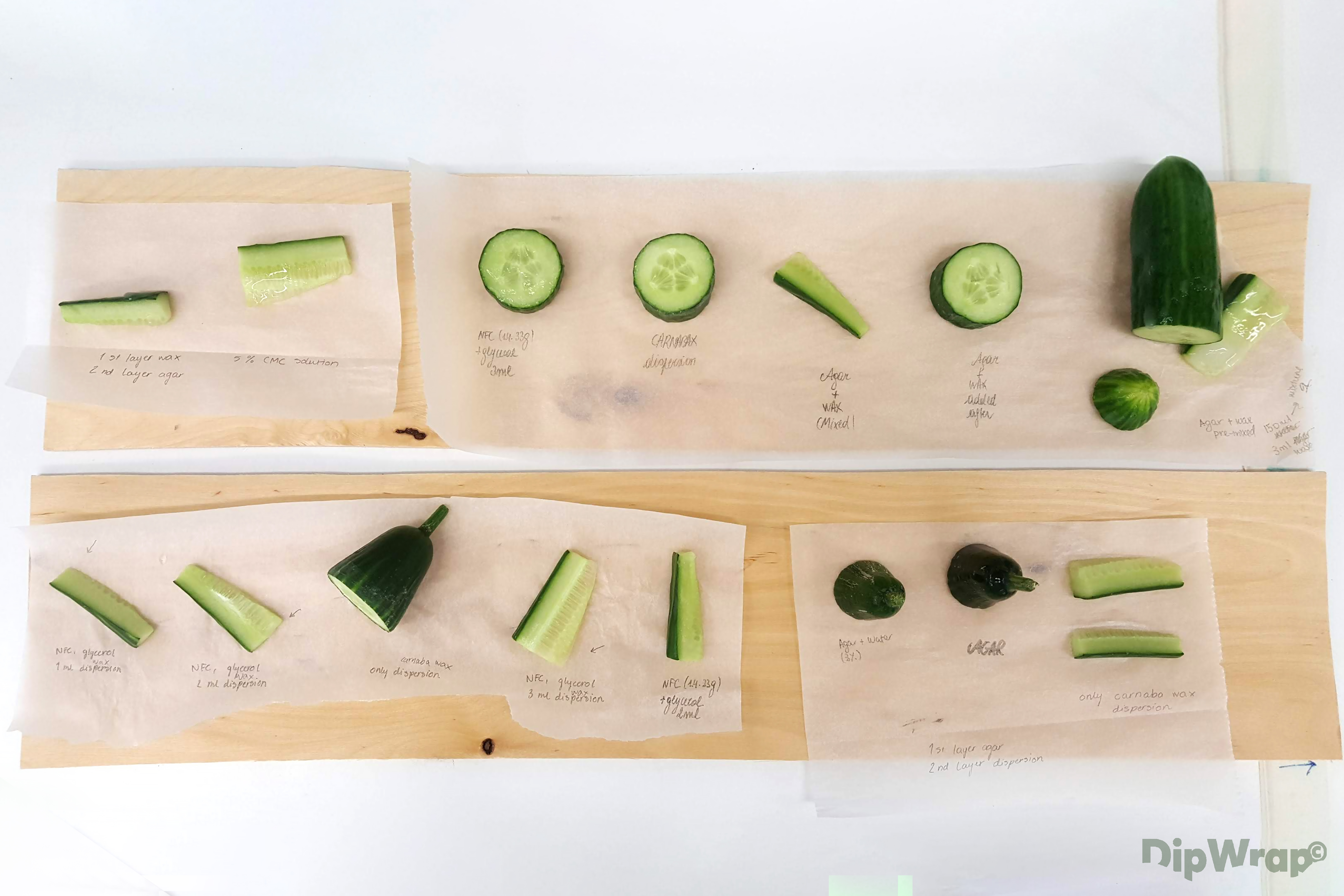 DIPWRAP – A SUSTAINABLE ALTERNATIVE TO PLASTIC SHRINK-WRAP
ENA NAITO, LOUISE KALLAI, EMILIA IKÄVALKO & SARI KUPIAINEN, DESIGN MEETS BIOMATERIALS 2021
In the DipWrap process the vegetables and fruits are dipped into an aqueous solution consisting of agar, cellulose nanocrystals and carnauba wax. When drying, the DipWrap forms a solid, biodegradable film that can be peeled o and disposed. The interdisciplinary student team developed the concept during the Design Meets Biomaterials CHEMARTS course and was selected to represent Aalto University at the Biodesign Challenge competition 2021. DipWrap was nominated for 'Outstanding Science Prize'.
THE FOREST IS A PLACE FOR REST AND RELAXING
The importance of nature for human well-being, both mental and physical, is broadly recognized. Forests were traditionally a source for nutrition and materials for everyday objects and the human-nature relationship used to be very close. Today most people live in urban environments and their connection with nature is often lost. Forest walks are a great way to relax and calm down, while working with natural materials offers one opportunity to reconnect with nature. As CHEMARTS alumni Sara Rueda Mejia states in The CHEMARTS Cookbook: 'The opportunities to enhance human well-being and meaningful contact with nature by experimenting with local bio-based materials are vast. For example, the development of new interactions might reinforce the functions of the human body and mind and raise awareness of the environmental issues related to materials.'
Source: The CHEMARTS Cookbook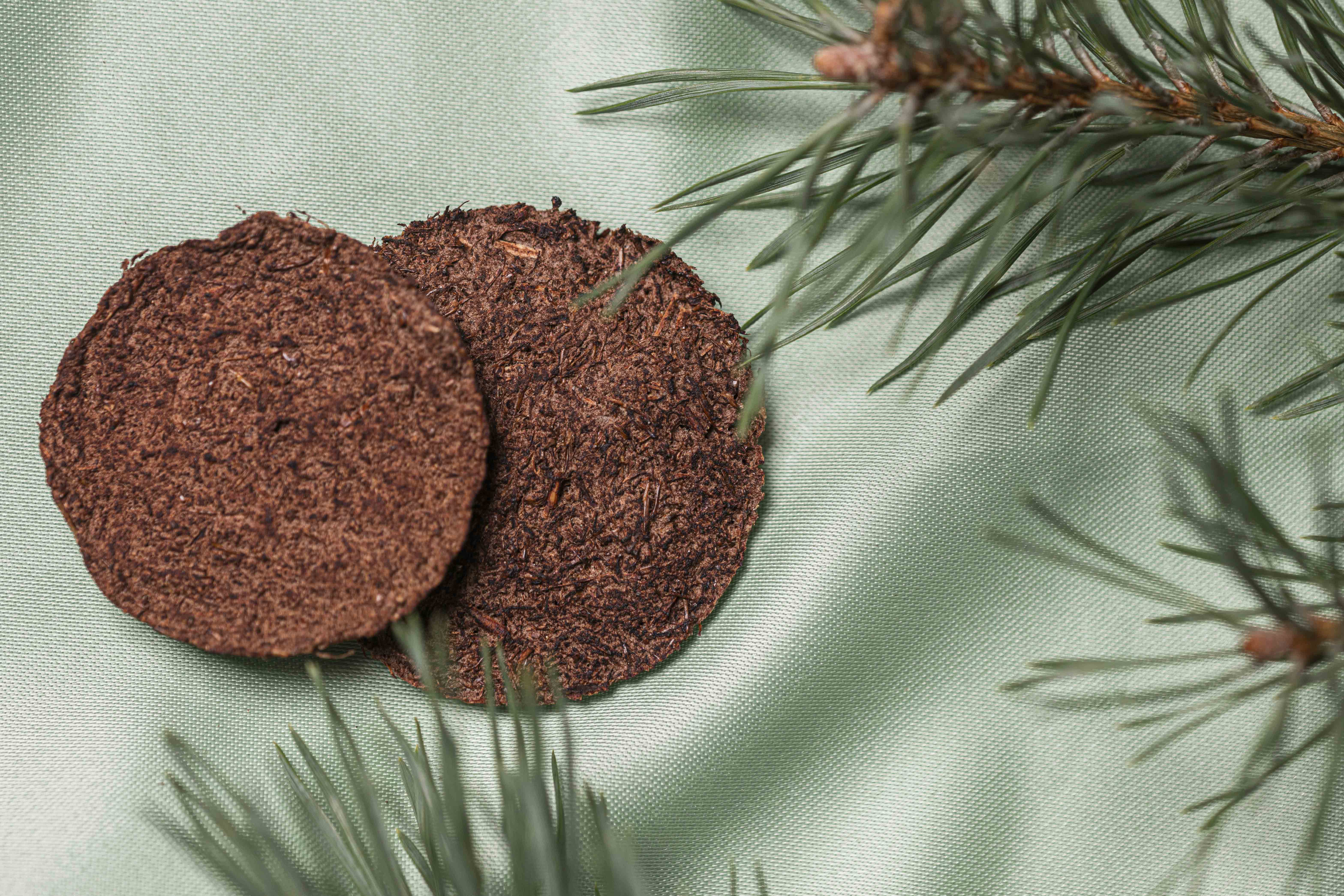 FOREST – MULTISENSORIAL MATERIALS TO EVOKE ASSOCIATIONS WITH NATURE
AARNI TUJULA, CHEMARTS SUMMER SCHOOL 2019
People associate different meanings with different materials, but with new materials there is often no familiarity or emotional relationship. FoRest is a collection of experimental materials with multisensorial properties to enhance our senses and to create positive associations with nature, hoping to evoke calming and relaxing feelings. The materials are made from local forestry residues such as pine bark, spruce needles and willow bark combined with nanocelluloses (MFC, NFC) and glycerol.
WHAT ABOUT REINVENTING TRADITIONAL MATERIALS?
Flax (linen), hemp, willow, common reed, birch bark, moss, nettle. These are examples of natural materials which Scandinavian inhabitants have been using for their textiles and everyday utensils as long as they have been living here. Fishing nets and ropes were made from willow, lamb wool was dyed with vibrant natural colors, moss was used as insulation and common reed on roof tops. Today cultivation of traditional plants such as nettle and hemp are of interest again, and material research has gained methods and tools to explore natural compounds on a molecular level. In parallel to fundamental scientific research, designers with their teams are experimenting with local materials around the world. Several start-ups focusing on wood and plant-based based material innovations have already emerged. Who knows what undiscovered properties exist in trees?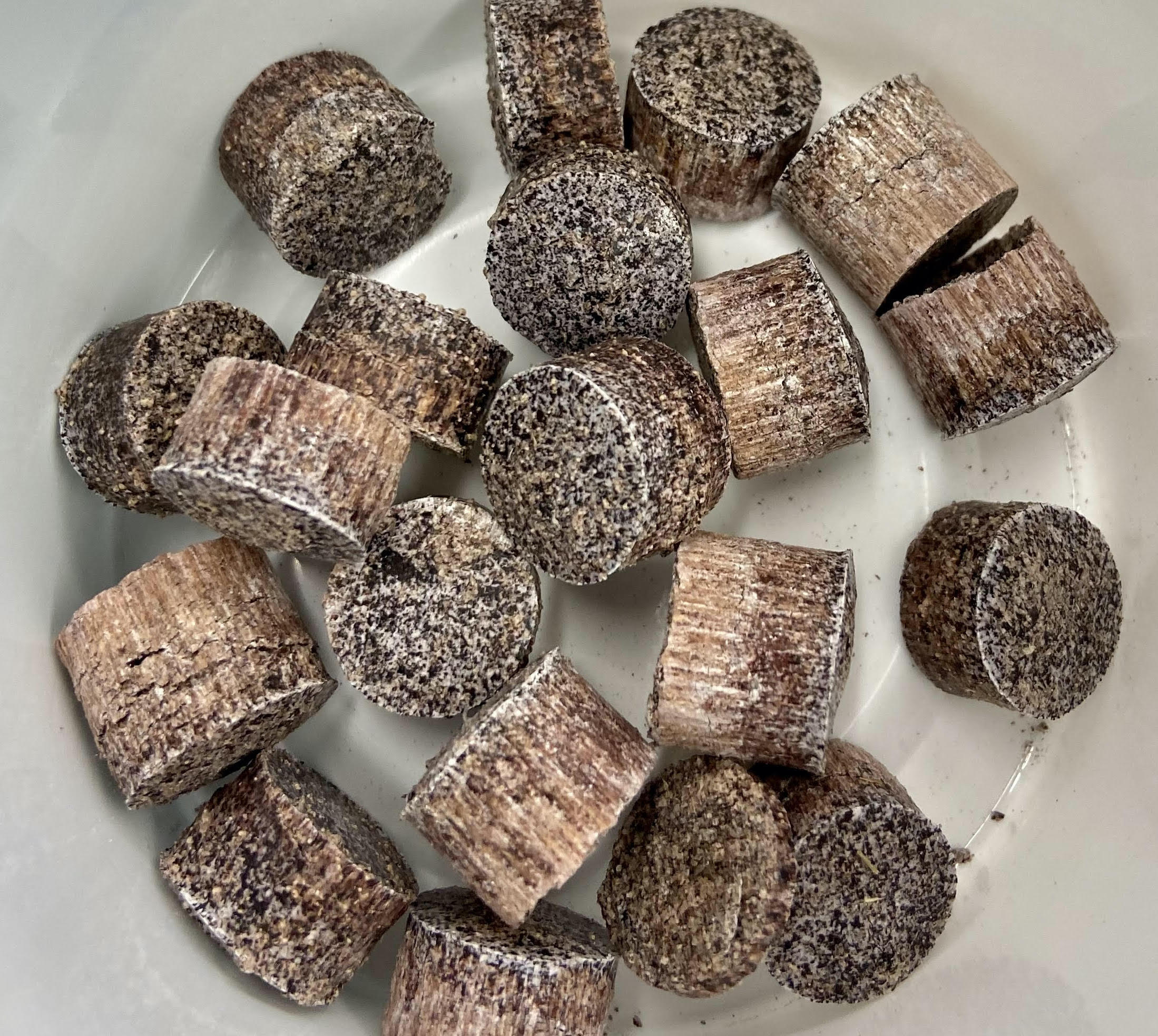 FROM WILLOW TO ALL-IN-ONE TEXTILE DYE
JUULIA HOLM, CHEMARTS PROJECT 2021
Dyeing textiles at home with environmentally friendly natural dyes should be as simple as dyeing with synthetic dyes. What if we could buy dye tablets made of natural colorants such as willow bark? In this experimental research project, the student developed non-toxic dye tablets that would be placed straight into a washing machine The depth of the dye result can be altered by adjusting the number of the tablets.
MAKING MIRACLES: BIO-BASED FUNCTIONAL MATERIALS
Fast evolving digitalisation can help us to make the world more sustainable place in many ways. It also means an increasing need for raw materials, mostly non-renewable. Could bio-based materials be used to replace some of them in the future? Can we innovate something completely new for wearables and smart textiles, such as cellulose-based conductive or optical fibres? What if those materials could be integrated into textiles and recycled easily with them? These questions are inspiring researchers around the globe. For example, in Finland the ongoing BIOPTICS research project aims to develop biocomposite optical fibers for smart textiles and biomedical applications, especially for sensing and therapy purposes. The research is expected to open new avenues for lignocellulose-based optical biomaterials.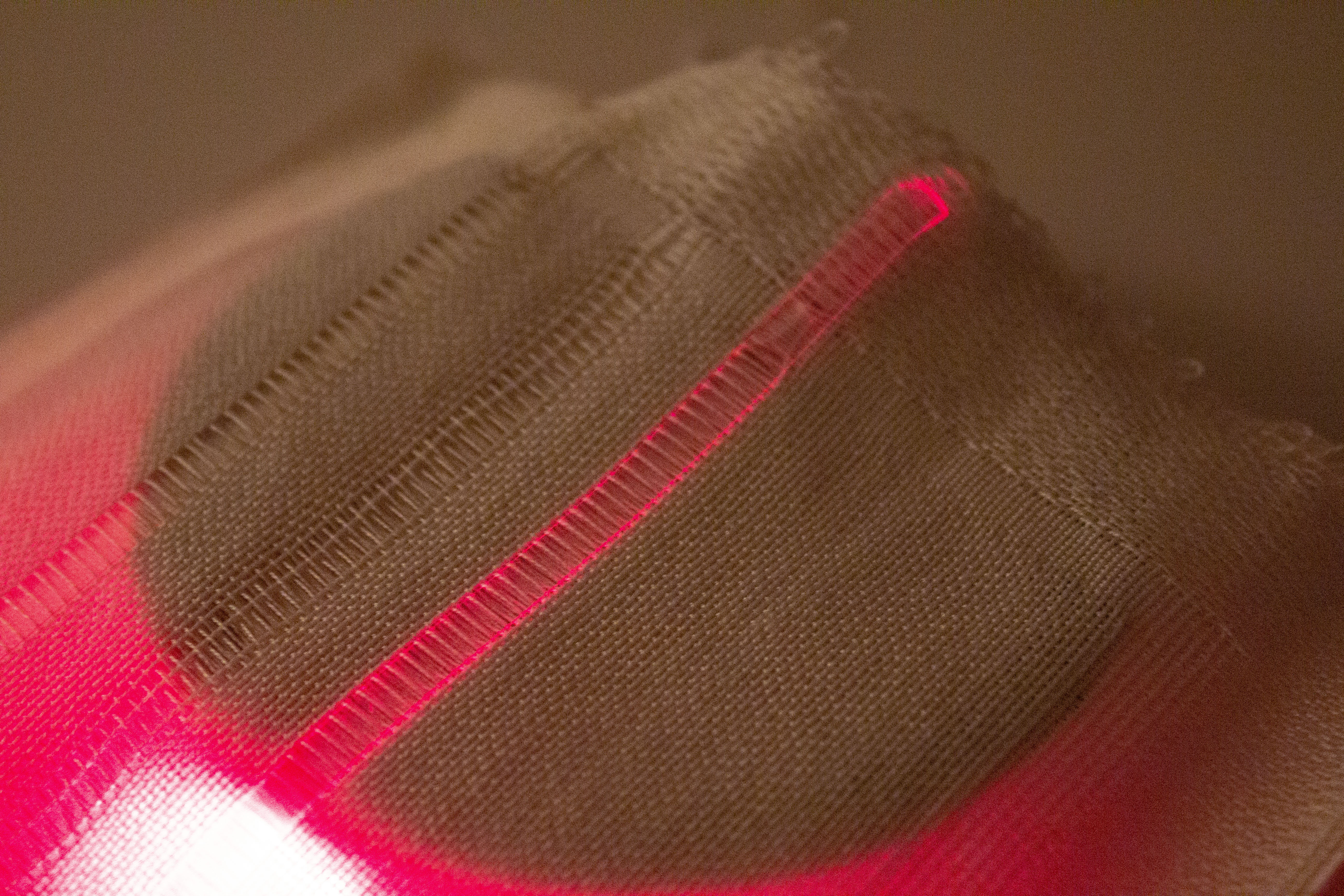 BIOPTICS: NOVEL CELLULOSIC OPTICAL FIBERS AND THEIR POTENTIAL APPLICATIONS
SOFIA GURIDI SOTOMAYOR & TEAM, BIOPTICS RESEARCH PROJECT 2021
In this multidisciplinary research project, cellulose-based optical fibres are produced from chemically functionalized cellulose grades. Due to the good light transmission properties of cellulose, these fibres are able to display light and, at the same time, sense the environment. By integrating them into yarn structures, it is possible to produce smart, interactive textiles which are capable of sensing body signals, like humidity or pressure, and create new visual patterns.
Exhibition team:
Pirjo Kääriäinen, Saara Kantele, Irene Purasachit, Nina Riutta & Iines Jakovlev, The School of Arts, Design and Architecture 
Tapani Vuorinen & Janika Lehtonen, The School of Chemical Engineering  
Liisa Tervinen, CHEMARTS advisor