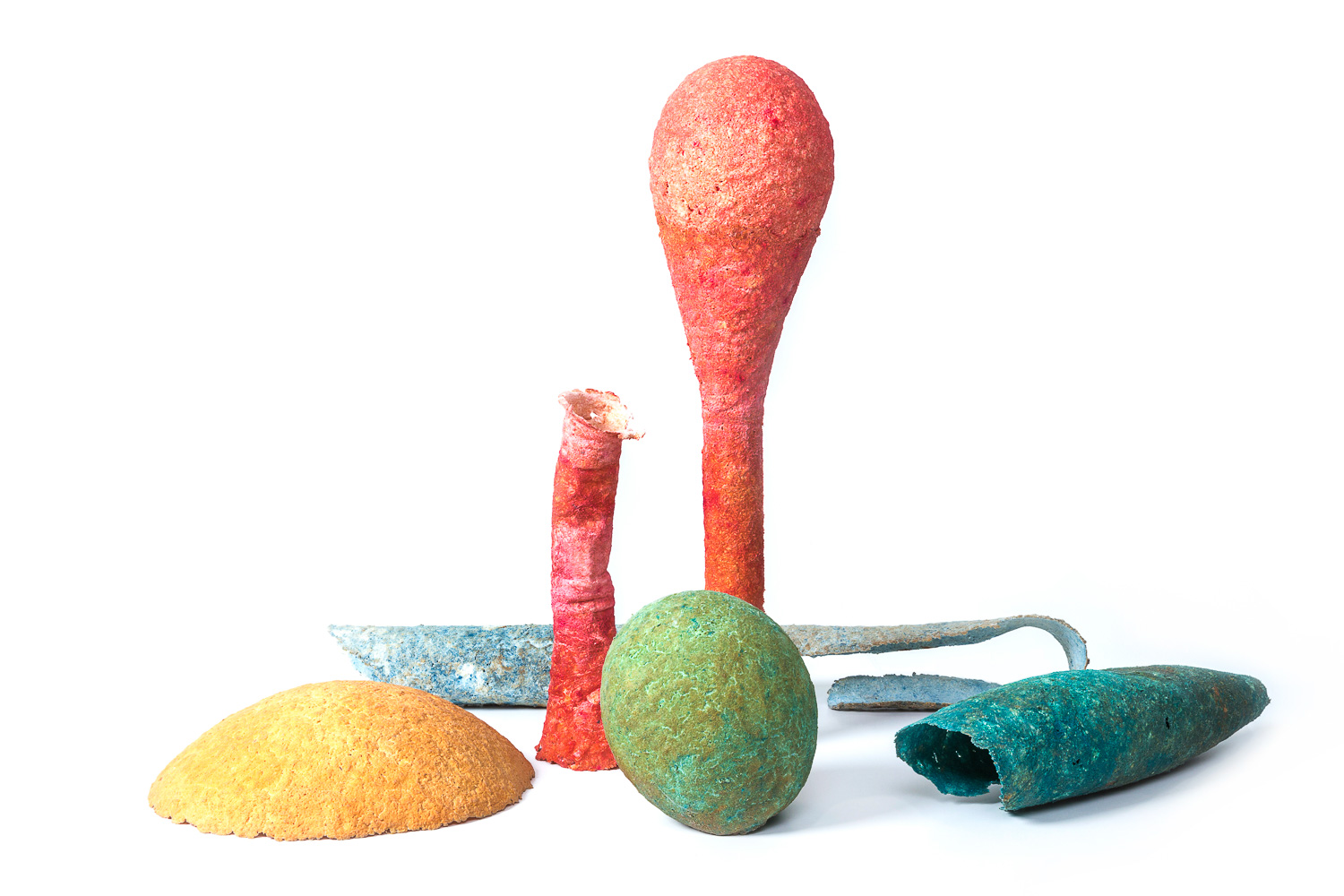 Where: Finavia Helsinki Airport
When: 11.1.-31.12.2018
Design students from Aalto University took the challenge to imagine a more sustainable future by developing their own biomaterials. Altogether 22 students used renewable raw materials like wood-based cellulose, food waste, feathers and plants. Those materials were collected, foraged and scavenged to inspire novel product ideas for a more hopeful future.
Down to Earth by Lotfi El Salah
A series of photos and objects looks into our connection to earth: planet, land, and material. Exploring the role of physical and digital tools in mediating this connection.
Reed, a Divider by Xiaoyu Ji
Reed is a divider between land and lake; this project is a divider between changing spaces. The raw materials for the pieces are reed, pulp and carboxymethyl cellulose (CMC).
Cellulose Leather by Riina Ruus-Prato
These experiments with different kinds of cellulosic materials ended up with a very leather-like cellulose sheet, perfectly fitting the material for a drum. The leather was manipulated and stretched, and finally the essence of a drum was captured – the vibrancy in its sound.
DiscoWood by Alexander Munsters
The mycelium of a fungi (Chlorociboria Aeruginascens) descends a pigment which causes discoloration of the infected wood. This piece of wood was found in Nuuksio National park.
Banana Blossom by Jin-young Chun
Banana peels are usually just thrown away. How about using the waste for new materials, possibly mixed with nanocellulose?
Cattail lace by Marjut Alitalo
In these pieces, the delicate patterns found in cattails are accentuated by using the plant itself as the main material for these artistic explorations, mixed with carboxymethyl cellulose (CMC).
Copy/Paste by Heikki Konu
The project studies how grass clippings mixed with nanocellulose work with building a large-scale sculpture.
Cultivating the Error by Martha Jessen
What was initially a consequence of a slight misunderstanding of controlled testing, led into intentionally provoking the protocol of the process where dissolved cellulose acetate sets into a solid form.
Sound Absorber by Anna-Riikka Nuutinen
This is a prototype for a compostable space divider with sound absorbing capabilities. The material is wood-based textile fibres and thermoforming polylactic acid (PLA) that can be produced out of corn or sugar beets.
Bio City by Simona Kliuciute
In the future, biomaterials being used in architecture and urban design won't be unique – on the contrary, they will occupy every aspect of human life. Ingredients for this concept city are coffee waste collected from the local cafes, agar-agar (seaweed) and calcium carbonate.
Potato Project by Riko Omata
Finland is a country of potatoes: they are cooked, baked and smashed. Potatoes are the original source of inspiration for this biodegradable tableware. All pieces are made of potato-derived materials and nanocellulose.
Fruit Mobile by Miu Tanaka
Biowaste could be used to produce colourful and light materials for home decoration.
ReWood by Linda Vanni
The original, tactile qualities of wood are retrieved by creating wall tiles from sawdust, carboxymethyl cellulose (CMC) and glycerol. The surfaces aim to create a balance between a visually controlled appearance and organic, even natural texture.
My Fruit Waste by Zuika Owada
We produce lots of wasted peel when eating fruits, however, that waste could be used to produce new kind of synthetic leather. This material is made of gelatin, glycerin, water, and fruit peels.
Evol by Sushant Passi
Evol is a series of artistic explorations with two natural materials from trees: cellulose and natural rubber latex. The end result has been used to imagine an evolution of new, tactile and organic plant-like species.
Plume by Sini West
Chicken feathers are currently seen as waste, but they can be a valuable raw material. Plume is research on the potential use of chicken feathers for bioplastics and other new product applications.
Fluffy Waste by Enni Karell
Have you ever thought how much loose dog hair there is? This non-woven material is produced out of dog hair collected from peoples' homes and dog saloons. It was mixed with carboxymethyl cellulose (CMC) in order to prepare it for various products.
Nexus by Tomi Jeskanen
Foam forming is a new technology to produce cellulose-based products. In this project foaming was used as a tool for shaping pine cellulose into delicate fibre webs.
Colours of Lignin by Dayoung Song
Lignin is one of the three main components of wood. This is an exploration of the rich natural shades of lignin mixed with bleached pine pulp and tempo-oxidized nanocellulose.
Layerings by Sara Akhlaghmoayed
Collection of ceramic sedimentary material, collected waste from the ceramic studio.
Printing Cellulose by Anastasia Ivanova
Lightweight structures formed by three-dimensional network patterns, produced by the manual extrusion of cellulose-based biocomposites on top of a mold.
50 Shades of Wood by Meri-Tuuli Porras
Wood as a material can have versatile character – this is a research about wood-based materials and their substances: sawdust, charcoal, ash, nanocellulose and calcium carbonate.
Credits to:
Teachers: Anna van der Lei, Pirjo Kääriänen / Guidance at Aalto CHEMARTS lab and Aalto workshops: Andreas Lindberg, Anastasia Ivanova, Tomi Pelkonen, Nina Riutta / Exhibition design: Collin Velkoff