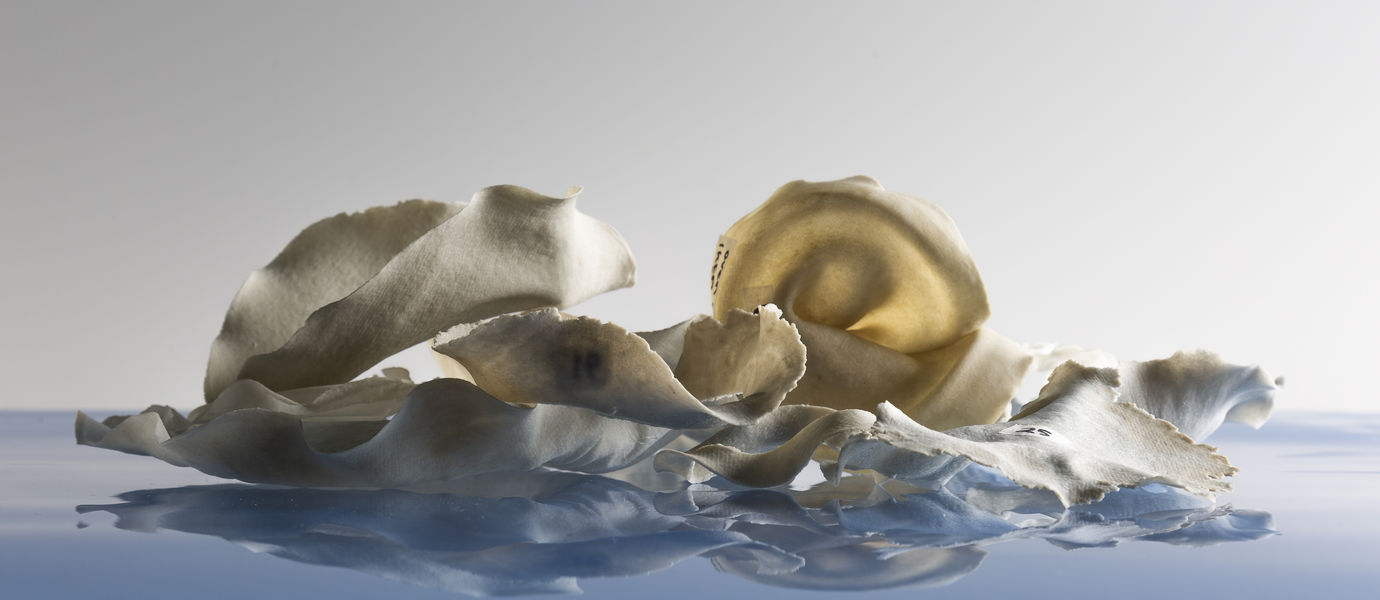 Team
Pirjo Kääriäinen, Curator
Anna van der Lei, Curator
Baldur Haraldsson, Exhibition designer
Susanna Ahola, Coordinator
Laureen Mahler, Doctoral researcher
Helena Sederholm, Doctoral Researcher
Sofia Guridi, Doctoral researcher
Sahar Babaeipour, Doctoral Researcher
Madhawa Basnayaka, Doctoral researcher
Matteo Iannacchero, Doctoral researcher
Sonja Dallyn, Graphic Designer
Opening times and access
The exhibition is open 11:00 – 18:00, Sat 21–Sun 29 October 2023. Access is free with a DDW Ticket.
Aalto University Bioinnovation Center focuses on sustainable bio-based materials, aiming to help the transition towards bio and circular economy. The Center brings together diverse people with different expertise to enhance unexpected findings and breakthroughs in material research.
Unexpected biomaterial findings through collaboration
To solve complex sustainability challenges, we need not only new ideas and concepts, but also new interdisciplinary collaboration and actions to implement them. Often collaboration is seen as a list of names in a project description, or as a list of authors in a publication – but that is not enough.
The Bioinnovation Center brings together diverse people with different expertise to enhance unexpected findings and breakthroughs in material research. The aim is to create bridges between disciplines, to inspire thinking and to grow networks. The Bioinnovation Center community wants to explore new working methods in material research, and to share the learnings with others.
The Center focuses on sustainable bio-based materials, aiming to decrease the dependency of fossil-based materials and harmful chemicals. The main focus is on textiles and packaging.
Bioinnovation Center projects
Biodegradable and biocompatible interactive textiles
Matteo Iannacchero and Sofia Guridi Sotomayor
Smart textiles materials capable of sensing, reacting, and adapting to environmental stimuli have shown great potential in performance, healthcare, and interaction design. Nevertheless, combinations of electronic components with complex textiles structures are commonly used to create them, raising questions and concerns about their life cycle and sustainability.
This exhibition presents novel manners of manipulating a cellulose-based material, for example, Carboxymethyl cellulose (CMC), in combination with novel bio-based and biocompatible conductive yarns to create touch-sensing woven pieces. The textile samples explore CMC's functional and aesthetic properties, combining natural dyes with various woven structures to create an array of interactive gestures to trigger sounds. One piece is placed in water to portray its degradability and dismantling as the exhibition occurs, showcasing its life cycle.
Bio-based water-resistant textile fibers
Helena Sederholm
Most of our clothes are made of cotton or oil-based polyester materials, contributing to environmental harm and climate change. Due to a growing awareness of these problems, the EU and other authorities are targeting textile manufacturers and retailers with new requirements of sustainability. Scientists and businesses worldwide are developing different technologies that can make textile fibers out of wood, cotton waste, and other abundant sources of cellulose. Ioncell® is one such technology. Cellulose-based fibers are, however, not as water-resistant as oil-based alternatives. This is a challenge when producing outdoor clothes or sportswear.
Some types of lignin, which is a component in wood, are naturally water-repellent. With the Ioncell® process, it is possible to produce textile fibers consisting of lignin and cellulose. The cellulose makes them strong and flexible, while the lignin makes them more repellent to water. The goal of our research is to develop this new technology to meet the needs of the sustainable textile industry of the future.
Cellugami
Laureen Mahler
The use of packaging has been growing rapidly in recent years, and there is an urgent need to develop sustainable alternatives to plastics and other disposable materials. The Cellugami project combines materials design with structural and visual design to reimagine how packaging is made, what it can do, and how its life cycle can be extended.
Alternative cellulose-based materials from nature -with emphasis on sustainable origins and current resource extension- are utilized to create an ideal medium for technical folding. At the same time, origami structures using these materials are developed to maximize mechanical properties and interaction potential. With the designer serving as a maker in a multidisciplinary space, the result is structures that are all at once highly functional and uniquely aesthetic: packaging alternatives that offer novel methods of exploring reusability and repurpose-ability.
Revolutionary textile coating
Sahar Babaeipour
Our cutting-edge research focuses on creating a versatile textile coating that combines antibacterial and water-repellent properties with breathability, non-toxicity, and sustainability. We have developed bio-based nanoparticles that can be coated onto cotton fabrics by harnessing the power of lignin derivatives and natural wax particles. As a result, the textiles have enhanced hydrophobicity, breathability, self-cleaning abilities, and even UV-shielding properties through layer-by-layer deposition. The nanoscale coating renders the fabric resistant to water while allowing it to breathe effortlessly. The polyphenolic structures in the coating add an extra layer of antibacterial protection.
What sets our approach apart is its simplicity and sustainability. Our coatings are derived from abundant, renewable raw materials, making them eco-friendly and economically viable. The possibilities for application are vast, and our research offers a fully bio-based solution for tuning multifunctional coatings on cellulosic substrates.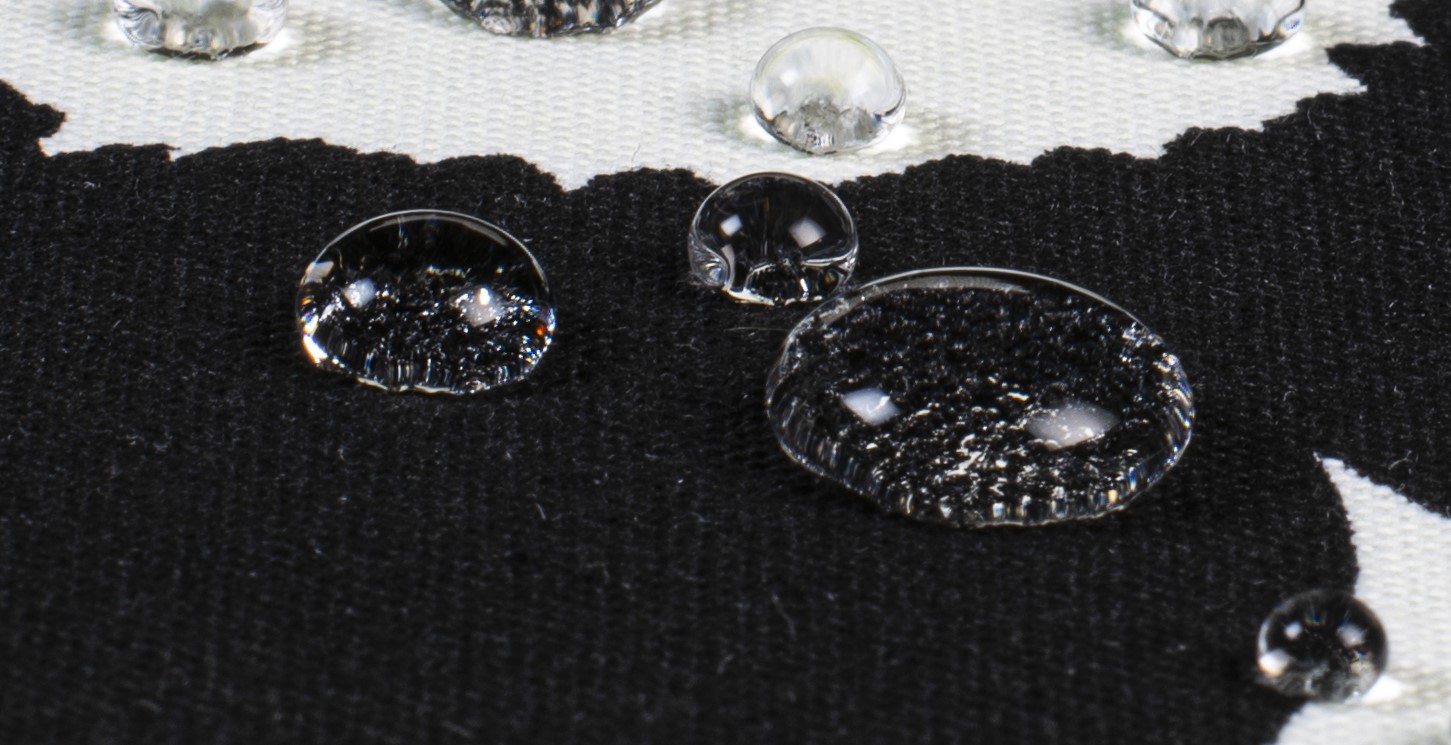 Wheat straw
Nicole Nygren and Kavindra Kesari, in collaboration with Michael Hummel's team, CHEM  
The Ioncell® process can convert cellulosic material such as wood pulp, old textiles, wastepaper, or cardboard into textile fibres similar to lyocell, viscose, or cotton. In doing so, it does not use any harmful chemicals or create environmentally harmful substances.
These yarn and fabric pieces were made to test the use of agricultural waste with the Ioncell® technology. Textile fibres made of wheat straw were ring-spun into yarn and knitted into jersey fabric. The resulting fabric has a bright lustre, soft feel, and can be used for clothing as well as technical applications.
The straw pulp was provided by Fortum Oyj and spun into Ioncell® fibres at Aalto University.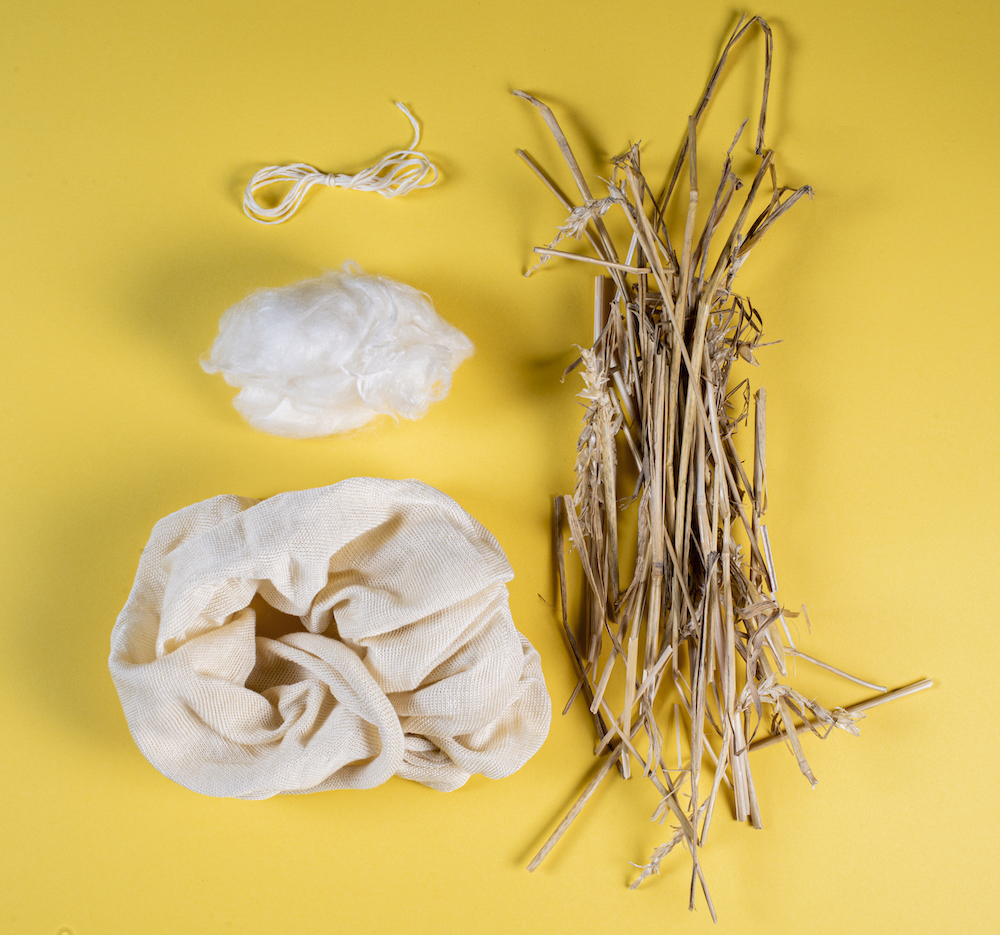 Tiina Otala and Tuomas Laakkonen, ARTS, Tam Nguyen, CHEM
Straw is a waste side stream of the wheat biorefining process: wheat biomass is separated by size, and the smallest particles—called fines— are filtered out. These fines lack any useful fibres and are considered waste. The energy company Fortum approached CHEMARTS in the summer of 2022 with the challenge to explore potential applications for straw waste. One idea was Utenstraw- biodegradable, single-use utensils made from straw. The utensils were formed by compressing straw fines in a mold at high temperatures and high pressures to produce a hard, plastic-like material. The material was tested in water, and it was discovered to be water-resistant long enough to function as utensils. As the material is only straw, it is also biodegradable.
Fortum aims to scale up its wheat straw processing by 2028, and novel applications for the growing straw waste could have an enormous positive impact.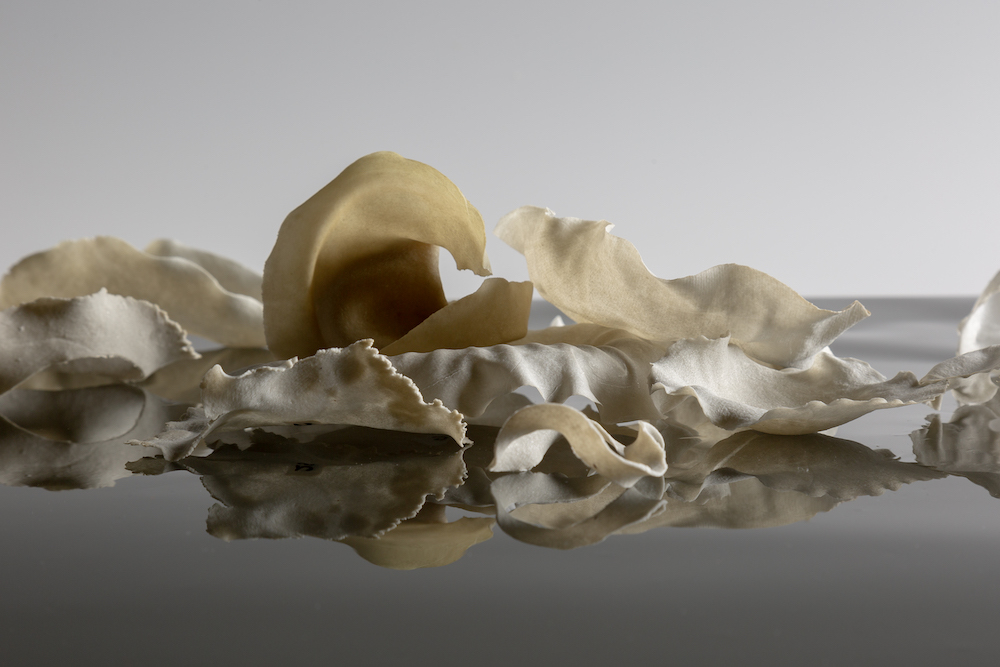 Coffee
Valenti Soler, ARTS
Coffee is grown in over 70 countries, and it is the second most globally traded commodity after petroleum. Finland is the world's second-leading consumer of coffee, with over 180 litres of coffee per capita being consumed annually. Industrial coffee processing creates plenty of pre-consumer waste, which today is mainly burned for energy. New applications for the waste stream are currently being researched, for example, for agricultural uses and textile dyeing.
This experimental material project aimed to ideate new materials by combining coffee waste with wood-based cellulose derivatives. The focus is on possible applications for interior architecture and furniture industries. A systematic approach and intensive experimentation period in the lab resulted in a promising selection of hard materials for boards and soft and flexible foams.
The project was conducted as part of the ChemArts Summer School 2023. Waste coffee grounds were provided by Paulig and Natural Indigo Finland.
Andrzej Tarasiuk, ARTS 
Two waste streams – industrial pre-consumer coffee waste and discarded local wool – formed a starting point for an experimental material project to create semi-rigid acoustic panels. In Finland, 40-60% of wool is burned as a waste due to the high costs of material processing and the low market demand.
The SoftAcoustics panels, with each layer having different densities of air bubbles and fibers, have the potential to absorb a wide range of sound frequencies. Each layer brings in distinct properties. The base layer is made of coffee grounds with a matrix of wool fibers. The middle layer has wool fibers spread out through its airy foam mixture with lots of air pockets. In addition to its sound and aesthetic function, the top layer is likely able to regulate indoor humidity and temperature, creating a comfortable microclimate and purifying indoor air.  The bond between each layer is strong without any glues. At the end of their life, panels could be grounded to make new materials such as bricks or filters.
The project was conducted as part of the ChemArts Summer School 2023. Waste coffee grounds were provided by Paulig and Natural Indigo Finland, and wool by a local farmer.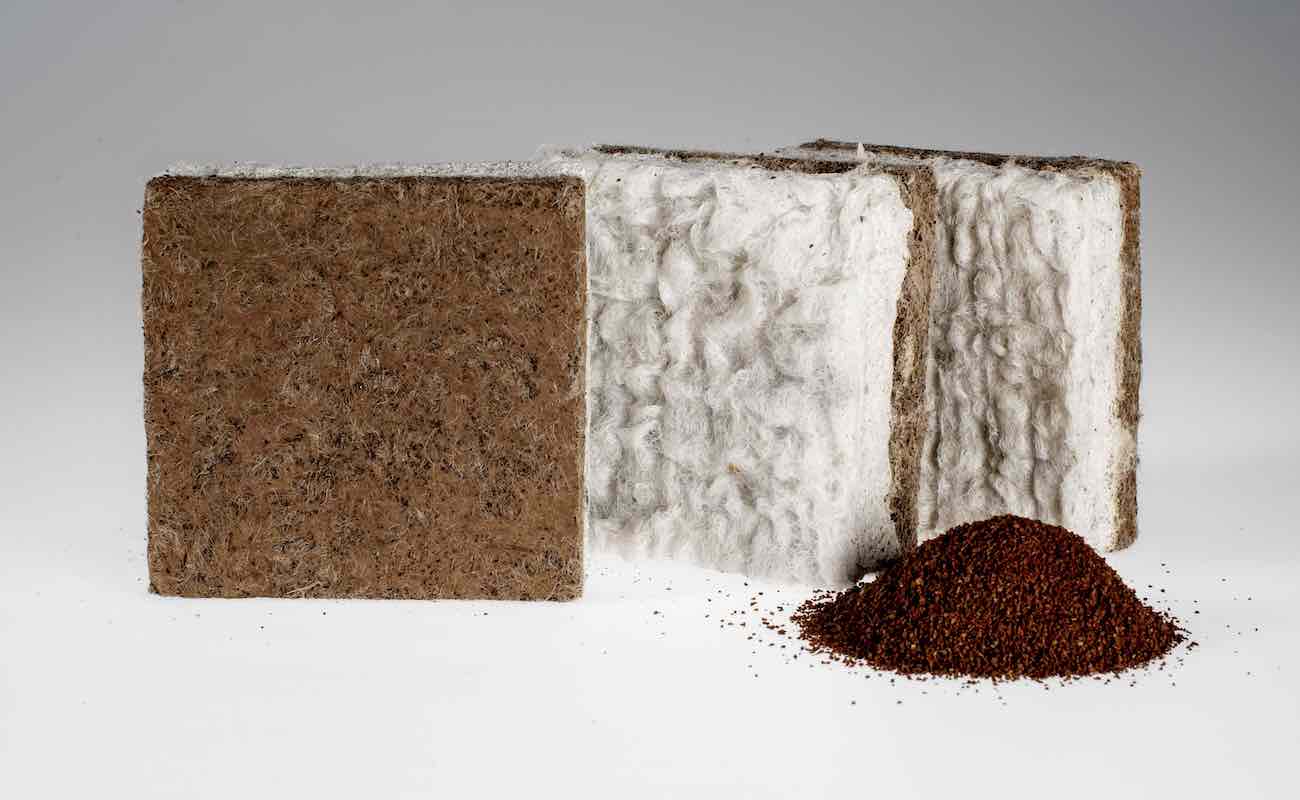 Wood
Giorgia Morandi (ARTS), Lorenz Koch (CHEM), Kristian Koleno (ENG) & Natasa Hódosi (ARTS).
BioMAT Matters was developed during the Design Meets Biomaterials course by CHEMARTS, and it represented Aalto University in the Biodesign Challenge 2023.
In response to the escalating global challenges posed by climate-induced natural disasters, the project addresses a critical aspect of emergency relief efforts—the provision of sustainable bedding solutions. Displaced populations affected by events such as floods, earthquakes, and wildfires often find themselves in dire need of shelter, including bedding essentials. Unfortunately, the conventional foam mattresses commonly employed in these situations are mostly made of petroleum-based materials, resulting in significant environmental repercussions as they are often discarded after a single use.
These lightweight foam mattresses consist of a simple blend of wood pulp, water, and biobased soap, ensuring both biodegradability and ease of production specifically tailored for emergencies. Alternative ingredients could be agricultural residues, recycled materials like newspapers or books, and diverse wood pulp options, all aimed at optimizing local production feasibility and adaptability.
Iines Jakovlev, ARTS 
Children have been playing with spruce cones for centuries. In this project, the idea is to explore this natural and abundant material for aesthetic purposes. The spruce cones were a starting point for a material experiment, where their structure has been broken down and reshaped into new surfaces and textures, preserving the organic aesthetic qualities. Different parts of spruce cones have been used. By using only biodegradable materials, such as a CMC as an adhesive, environmental friendliness can be maintained when creating these visually enchanting material samples or art pieces.
The Spruce cone project is an ongoing, experimental design project inspired by the CHEMARTS courses.
Algae
Nina Riutta, ARTS 
Filamentous green algae, Cladophora Glomerata, is the most common green algae in the world, growing near shorelines. In the Baltic Sea, its excessive growth, caused by eutrophication, is a serious environmental problem. The Algae Hat project researched design possibilities of Cladophora Glomerata for biodegradable, single-use purposes through material experimentation. The final design concept is an Algae hat that could be made by anyone at home. The algae' felts' by rubbing its surface gently using hands and environmentally safe soap. When there is no longer use for the hat, it can be composted.
The Algae hat project is an ongoing, playful design project inspired by the CHEMARTS courses.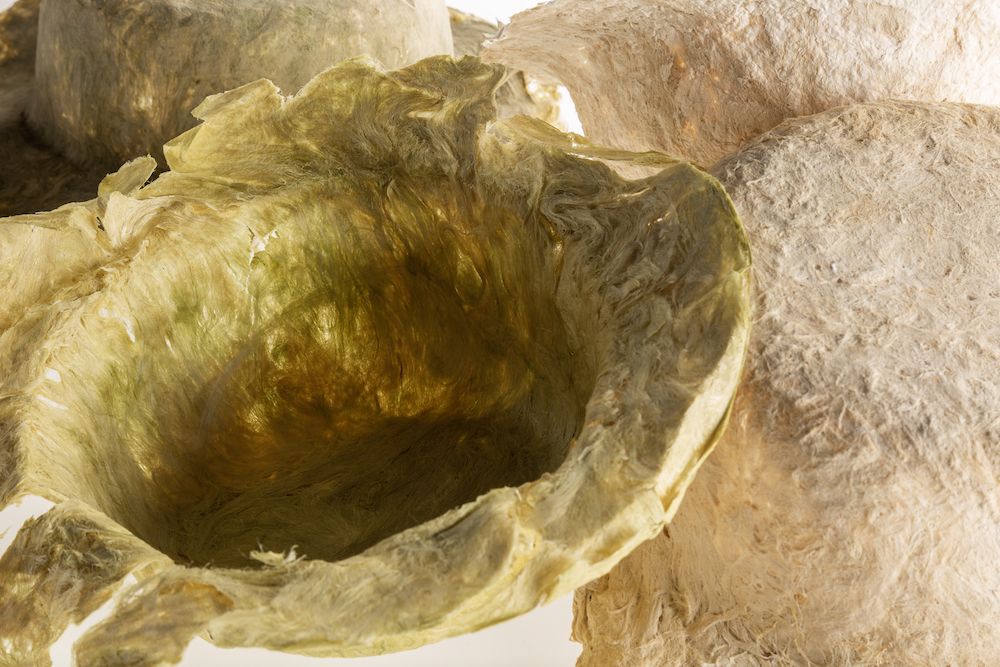 Laura Rusanen, ARTS
Cladophora Glomerata is one of the most common filamentous algae in Finland. These algae love nutritious living conditions, and because of increasing pollution, their number in the Baltic Sea has tripled during the last 30 years.  Cladophora Glomerata takes living space from brown algae that produce oxygen on the sea floor. It also uses a lot of oxygen after it dies and decomposes in the sea.
Project C. Filament transforms Cladophora Glomerata into speculative textiles to raise awareness of these ecological problems. Cladophora's fibers are weak; therefore they were mixed with wood-based nanocellulose and cellulose derivatives to give strength to the new material. The algae mass was extruded by hand through a syringe into the desired shape and structure, eliminating the regular yarn-spinning process and the labor of preparing the fabric.  
The project is part of the designer's Master's thesis (2021) and was conducted during the ChemArts Summer School.